16th of Nov – 3 out of the last 4 days had consisted of 10 plus hours of riding not consistently but with military stops and fuel stops.  When I got to Jordan I was going to relax for two days and just slow things down again.  Today I had planned on trying to find a tire shop and get Bernard all washed up again.  Last time he was washed was the day that I entered Iraq 2 weeks ago.  I went downstairs to the front desk of my hotel to call around to some motorcycle shops to see if any of them have a tire for my bike.  The one shop I found on the Internet that was said to carry a tire of course did not seem to answer the phone call.  So the front desk guy ended up calling a bunch of other places but with no luck what so ever.  He tried two more times to reach the one that I found online but with still no luck.  Since I was having a really relaxed day shit I have nothing to do so I figured I would just ride over to the shop it was only 30 mins away and talk with them firsthand and possibly if they dont have one they could order me one.  On my way to the shop I saw the USA embassy just glaring in my direction yes the Golden Arches of McDonalds.  Now I had ate pretty much kebab meat everyday in iraq.  When I say kebab meat it is not chunks of steak its minced meat probably with a lot of fillers.  Even when I ordered a cheeseburger its the same meat so Mcdonalds sounded absolutely amazing right now.  I pulled in got me a quarter pounder and McFlurry and it was all fucking god damn delicious.  After my happy belly I made my way to the motorcycle shop.  In the windows they had 4wheeler tires so I thought this was a good sign.  I asked the guy about a rear tire for my bike he said he did not have one but I could clearly see on his tire rack.  He kept saying this is really no-good Chinese made not safe for me but he did start calling around to other shops and tire stores.  Meanwhile all the bikes in his shop were super high end Ducati BMW and Aprilla street bikes.  That must of been there specialty there because they all looked super tricked out with components.  After about a half an hour there he informed sorry he can't find anything right now but took down my
phone number and said he would try to help.  I needed chain lube desperately so I did pick up a can while I was there.  Afterwards I made the drive back towards the hotel.  The front desk found a car wash place a stone throw away to clean my bike.  I pulled up and parked my bike and within seconds we were removing the bags off and he was rinsing Bernard down.  He hand washed the whole bike and bags I paid 4$ for the washed and tip the guy a dollar.  I made my way back to the hotel.  I was staying in a Marriott this time around and I only say that cause my dear friend Ashley gets me discounts at them so I dont pay full dollars but the reason for saying it is I am premier member with them because they work with united airlines which is the only airline I fly.  So since I am premier the full service Marriotts usually have a lounge with free food and booze but for some reason the lounge was closed.  So I got a voucher for one dish off the menu and two cocktail drinks.  Now most of you dont know but JORDAN IS EXPENSIVE AS FUCKKKKK.  Since it is free damn right I am going to take them up on the free food and drinks.  After dinner just went to my room and called it a night
17th of Nov – Again, slept in with no real rush to get out the door.  I was staying in the capital city again one more night so today. I just planned on going to some museums.  I been here almost 8yrs ago exactly so I did go visit the popular sites Amman has to offer so today was going to do something different.  I really have not been to any museums since I been on this trip.  My first stop was back by the motorcycle shop I was at yesterday it was the Royal Tank Museum.  Yeah a museum just all catered to fucking military tanks I guess used by the Jordanian
military.  It was an impressive building and at first was worried this to was closed but sadly it just looked that way by the empty parking lot.  I mean this building was massive I mean it does carry tanks inside so it almost goes without saying that it would have to be.  Sucks to see such cool places like this be so empty but I entered pay 5$ which I was surprised it was that cheap.  It started from beginning of the use of guns before they actually had a tank just cannons attached to a big wheel.  It wind through to world war to Jordanian revolt to the war with Israel to modern day tanks.  It was done really well and was super impressed by the layout and 3d screens in certain rooms.  Afterwards grab a gift for
junior and was making my way to the next museum.  Next museum was a good 30 mins away in another direction it was the Royal Automobile Museum from there King.  I did not understand what was going on but for some reason it was free today which who does not like free.  The main focus of this museum was the car collection of the Jordanian king.  Who come to find out was a big motor head.  He owned a f1 team and raced in rally races as well.  The collection was super classy cars from Rolls Cadillac and Lincolns nothing really all that crazy unless it came to the race cars.  He also had a few motorcycles thrown in there as well.  At the end of his car collection was just some super modern vehicles that are donated temporarily to the museum for show purposes. After the car museum I took a cruise to this massive park and made my way back to the hotel.  Like usual I was looking forward to my typical one meal but was not going to spend a dollar cause I again had a free meal and two free drinks.
18th of Nov – Today I was going to check out of my hotel and make my way south to the iconic seven wonder of the world PETRA.  I was not going to visit today though I was going to go chasing some waterfalls and get there when I get there.  I left the hotel by 10 and made my way through the mountains down to the lowest place on earth.  Yes I
made my way back to the Dead Sea.  This would be my third time coming here but this
time looking for a different form of a water that I have not seen.  A natural hot spring water fall not too far from the Dead Sea.  It was a beautiful 40 min drive from the Dead Sea back into the mountains and down the other side with all being switch backs most of the ride and reaching the highest point at 5375 ft.  Which is not crazy high but take into consideration I came from the Dead Sea which is 1302 ft below sea level.  So the actual climb from the Dead Sea to the peak was 6677ft in just a short period of time.  Anyways I pulled up to the gate to get back to the waterfall paid the 15$ to enter.  Parked the bike change and made the short walk to this beautiful little gem.  There is a hotel a stone throw away so its not natural of course they designed it for tourism and built 3 little pools to relax in.  I hung out there for a good hour I would say before I made the walk back to my bike and carry further south to the next waterfall.  I didn't bother putting on my motorcycle gear because I was going to go to the next water fall and then take a dip in the Dead Sea.  Well when I got to the next waterfall I walked back between the canyon to see only a trickle of water.  It did not make sense for me to continue because I imagine the water could not of been much if there is only a trickle of a stream going into the Dead Sea.  I cruised a long the Dead Sea for awhile trying to find a beach to stop at and take a dip.  Sadly it was all cliffs which I do not remember it being like this at all and I could not find the beach that I stopped at before.  I really was not worried cause like I said I been twice I just figure I would dip in while I was here but after coming to the very end of the sea I was not going today.  Well since I had plans to get in water again I still have not put on my motorcycle gear and was cursing in board shorts and a t-shirt which was amazing in the 76 degree weather but that was soon to change.  Now the last time I drove this route from Dead Sea to Petra I cross through straight desert.  It truly was not hard to forget that it was straight desert because there was no actual paved road it was compact sandy dirt the for a good hour or 2.  This time my gps had taken me back up into the mountains where the temperature dropped to 56.  Now 56 on a motorcycle can easily be ten degrees cooler from windchill and what not so needless to say I was getting damn cold.  I had to pull over and put my motorcycle gear back on before continuing to Petra.  I arrived at my hotel just before sunset which now has been around 430.  Got some photos from my hotel window and decided it was time to eat.  Town was about a 15min drive away and was not really in the mood when I found out the temperature outside was 52.  So sadly I decided on eating in the hotels restaurant which I hate to do (unless its free lol). Afterwards the hotel has a wet and dry sauna so I figured I would finish my night up making a 20 min round in each before calling it a night.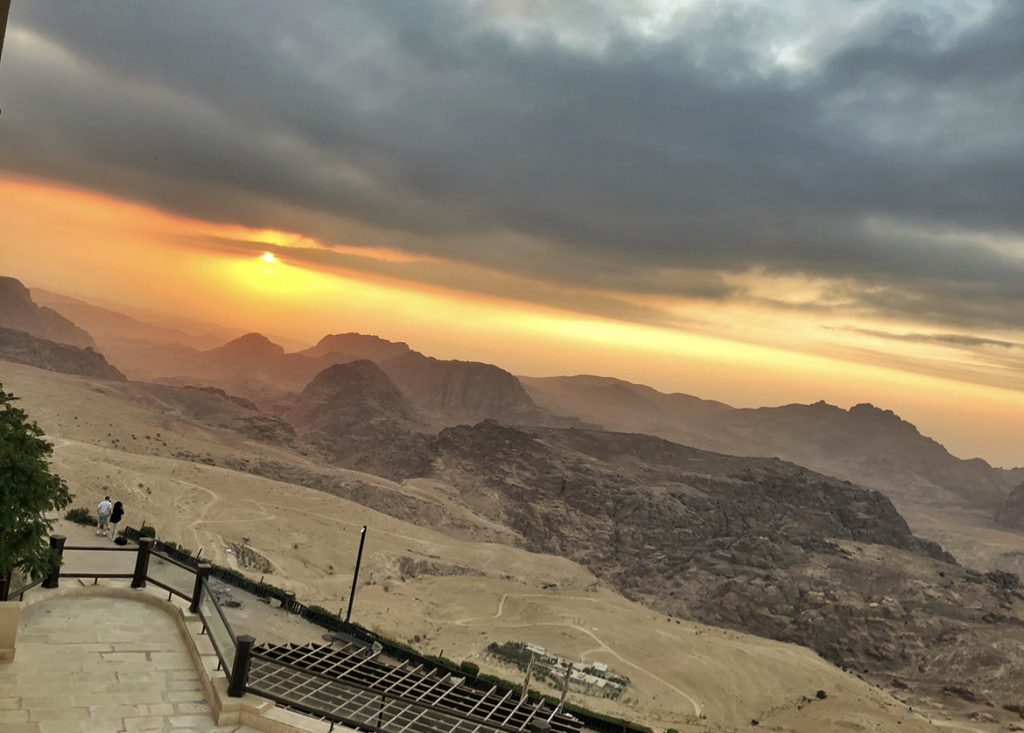 19th of Nov – For the sake of riding my motorcycle through this country I figured I had to stop at Petra to have it apart of this world wide motorcycle journey I am on.  Was not in a rush because I truly did not care to do it all over again because its not like a ton of shit changed in 8yrs and if it did change it would not be for the good.  I made my
way there around 11am parked the bike and this time iw as going to start on the back end entrance and make one swoop to the front entrance.  To do so had to take a taxi 10 mins to another entrance.  This time I was going to do the lazy just cruise through and take in the sites from a donkey.  Yep was not walking this time around lol.  Hired me a donkey and a one way from start to the finish.  Did not even get off the donkey just took photos from the top and moved on to the next spots.  Unfortunately I had to get off at the iconic landmark stop as the animals were not allow to go through the short passage out of Petra.  So grabbed few photos at the treasury and made the 30 min walk out before grabbing a ride on one of the free horses to the gate.  The main entrance was littered with souvenir shops so found myself a sticker which is the first new sticker for my bike.  (Could not find a turkey or iraq sticker). Also picked up a patch for my boy Marcos in Florida who asked me if I came across any patches grab him one.  It was around 1 and got suckered into getting a chicken wrap and a beer.  Now when I say Jordan is EXPENSIVE AS FUCK.  Ticket to enter Petra is 50 Jordanian which is 70$ ( I flew in a damn hot air ballon for 80$ in turkey) the donkey was 30Jod which is 40$ and my fucking shitty chicken wrap and a beer 30jod again which is 40$.  I guess I never need to bitch about hot dogs and beers at baseball and football games again.  After Petra I had a hour an half drive to a place I been wanting to visit for awhile now WADI RUM.  They have these super rad bubble tents in the middle of the desert and since I had two free night stay saved up on my hotels.com account I got the bubble which would of cost over 400$ for a whopping 134$ for my two nights.  Again it pays to be damn loyal to certain brands and website the perks will speak for themselves in the end.  I arrived in the town of Wadi Rum and instantly phone service was cut off.  When I arrived I did not see how or where my hotel was.  There were tons of cars parked in this parking lot and could see by the green plate it meant they were rental cars and at the spot there was a bunch of people standing there.  I ask how to get to the hotel they said you park here and we drive you with a 4×4 in.  The one guy I spoke with asked if I wanted to do a sunset tour today.  I did not really have plans because I was going to get to my hotel relax and tomorrow I knew I was in the desert I wanted to do the desert tour tomorrow.  This guy was hard up and of course I am sucker and agreed to do it now.  It was 230 and he said sunset in like 2hrs so I will do tour for
you for 40jod its normally 50.  Which he was not lying I did see that sign at the entrance to Wadi Rum in fact think it said 55jod.  So 40jod is 55$ so there goes even more money today.  First stop was a spring which cool because it is a desert but I dont need to spend anytime here it was a trickle that filled these trowels for the animals.  Next climb up this sand dune that was pushed against a mountain so when you got to the top of the sand dune you could climb the rest of the way up the mountain.  The views were amazing up here.  When I walked down to the truck he invited me into the souvenir shop there to have a tea.  Next stop we stopped to see some etching on the walls dated back to who knows when cause he did not tell me.  They were pretty much gone but a few of them you could make out.  Next stop was a small drive which I been to many of these before its just a whole that I guess wind pushed through in the mountain and it creates an arch.   I feel like every country has one at least that people try to claim as a tourist site.  Sadly normally they do not interest me but the scenery out the other side of the whole was pretty cool to capture.  Finally our last stop was more like a hill  where we sat down build a little fire and had tea with another group.  I put my camera up on time lapse while I enjoyed the 3 French peoples company.  Afterwards made our back into town he was not allowed to drive me to camp so he dropped me off at a stand where I waited well over an hour for someone to get me but no one showed.  Finally one of the kids there said I will take you sir I am sorry you been waiting I am not sure where your hotel driver is.  We made a good
30 min drive into the darkness of the desert seeing little glows from other campsites in the distance before going into this nook and seeing a color glow.  This glow was my campsite and had all the colors shinning not he desert rocks behind them.  It was truly beautiful to arrive at night and would suggest everyone that visits here to do the same.  I get checked in and they breakfast and dinner is included in the price and the house in which that ran.  Also then went into the tours for tomorrow explaining since I will be here all day the 6hr tour with lunch is 110 jod which is well over 150$ needless to say they can fuck right off I didn't even pay that for the nights.  Then explain the 4hr and 2hr and sure enough the 2hr was 50jod and I just paid 40jod.  I of course declined them all he took me to my bubble and explain there is no key there is two doors to enter the first door you have to close before entering the second door because the bubble is being pumped with air and if you leave the doors open it will deflate your bubble.  This was very interesting to me cause that means air is being pumped into this thing at all time which does not seem very environmentally friendly to have a blower running 24/7 but to be fair the whole place is solar panel ran.  Anyways the room was awesome I def will enjoy this for two nights for sure.  It was like 48 degrees so I instantly turned on the heat inside and relaxed for about an hour before dinner.  The dinner was a buffet of course and the food was pretty damn amazing especially the blob of desert I kept grabbing.  I have no idea what it was it sure did not look appealing but I went back three times for it it was that damn good.  Got done eating and the reception mentioned at check in there will be a bonfire later in which you can order beers and shisha aka hookah if I like.  I figure I could go for a beer or three so after dinner came back to my bubble I grabbed one of the Jordanian coats they have hanging inside the room and made my way up the bonfire place that sat agains the massive desert rock.  I got my one beer with the surprise price tag of 10jod which is 15 fucking dollars.  This was a 12oz can of Amstel light and it was 15 god damn dollars.  I won't leave a bad review but this is definitely going up on hotels.com reviews cause that is just plain out ridiculous.  Well one beer is all I drank to say the least and made my way back to my room an watch the moon from my bubble.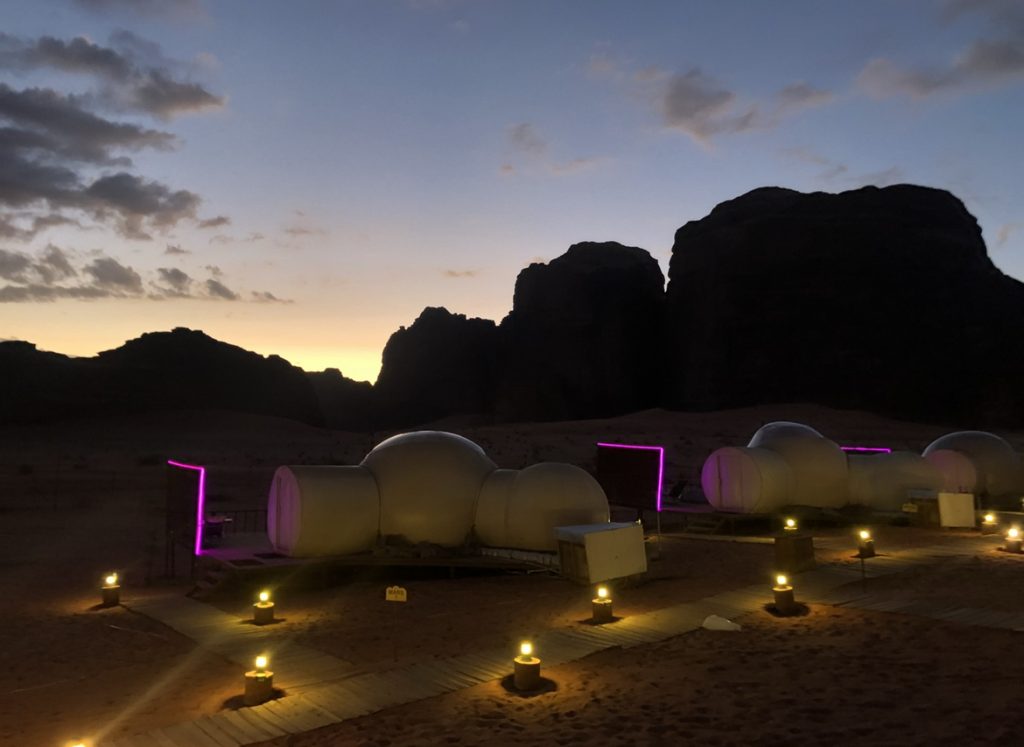 20th of Nov – Lets see I am in the middle of the desert there really is not many options of things to do here and sadly the sunset tour which I did yesterday was the only thing that I knew to do.  Breakfast was served till 9 but like usual not hungry for it so just laid in bed and started to read this book that I been carrying around.  Around 10 a
maintenance guy came around and covered the top to all the bubbles.  Which honestly was thinking to myself this damn thing is going to get hot and or just be a damn tanning booth.  So yeah once they covered it with he cover it got dark and I had the ac on and for some reason reading a book gets me tired so I ended up passing out again.  My extra hours of sleep did not last long woke back up around noon and decide to go to the front and see if I can get a ride into town to buy some snacks and water because the hotel did not offer anything.  They told me that I would have to pay a taxi fare to get into town.  Which is honestly stupid because I have not other option and on top of it the truck goes back and forth into town all day long to drop off the people checking out and picking up the new customers checking in.  He suggested that he will get the driver to pick up some snacks and some water for me.   I head back to the room and decide to layout on the chair in the sun.  It is supposed to rain today so that was another reason I did the sunset tour the night before because I thought I might not have this opportunity today to do it.  With that being said it was super cloudy so the sun would be blazing and then the clouds would come rolling in and it would get chilly.  Another really annoying thing about Jordan it seems like they have an over excess amount of flys.  Like I dont know how to explain but it seems more than I have ever witnessed.  What I am getting at after laying
there for 2hrs I started to get really annoyed by the flys I decide to take a short walk around the site.  On my way back through it was like 4 pm so I stop at the front and ask if they ever got those snacks.  The guy said they were on there way still.  Well dinner is in 3hrs so not sure if I really need anything now.  I went back to my bubble and did some more reading but it was getting chilly so went inside and started on my diary of Jordan.  Sure enough no one ever came to my bubble to deliver snacks and water and dinner was here now.  I went in got my bottles of water and filled my stomach up from the buffet.  They had that amazing desert that was there the night before so like usual when it comes to buffets I ate to much and definitely over did it with the desert again.  I ate slowly to kill as much time as possible at 9 they stop serving so I end up leaving around then.  Tonight I was not even going to both to go up to the bonfire did not even want to be tempted to pay that stupid price for beer so I just went back to my bubble and did some more reading and filling out my blog before crashing out.
21 of Nov – It was time to head back into the world again.  I packed up all my stuff in the bubble and made my way to the breakfast tent to see what they actually had to offer.  I was hoping the sweet dish they have at dinner would be offered in the morning as well but needless to say that was not the case.  They did have cereal so I did have a small bowl and a tea before asking the reception to head back to town so I could leave.  Had to wait around a little for a truck to be available to take me and soon I was on the way back across the desert to the small town of wadi rum.  Loaded the bike up ands heading out of the desert to the main road.  Today I had a short ride to the city of Aqaba which was only a hour and half away.  I booked a hotel near the Saudi border to make a easy early crossing the following day.  When I got to my hotel I was early so the room was not available they told me probably be about a hour.  When I went back outside to grab stuff off my motorcycle a guy offered me diving.  I have heard the Red Sea being one of the best places to dive at but not really Jordanian side always hear about the Egyptian side.  Now I can see Egypt from my hotel so its literally right there so of course I was interested.  Now I do have a diving license but it truly been like 7-8years since I last used it.  I told the guy and he said its okay not to worry.  Well not like I was worried but I mentioned I want to drop off all my stuff in my room when its available and I will be right back.  About a
hour or so late I come back over to him and mentioned I was ready to go.  Since I just go to this town I did not realize it was actually normal pricing here.  So when he told me it was only 35 dollars I was definitely excited about it all.  Another diver joined with he was an older man from holland.  It was nice it was just going to be the 3 of us and I was a bit nervous to go with a big group since I feel like a rookie again.  I remember all the normal set up stuff hand signal thing was all knew to me but he said not to worry he will be right there with us to check over us.  It was an off short dive as in in we just walked into the ocean we didn't take a boat out to the middle of the sea.  Also it was ship wreck that we were going to see which was amazing to hear because I didn't realize that.  Unfortunately my 360 camera was only good up to 10m and we were going 26meters so I could not bring that along but the instructor had a go pro that he would use.  We pushed off heading into the depths of the water and instantly had a really hard time popping my ears from the pressure so my head constantly was hurting.  The instructor would bring me up a little higher in
the water till I felt okay and then we would go back down.  Sadly I had to do this a few times cause I just could not get my ears cleared so again I was happy it was just one over diver with me.  We finally go to the depth of the wreck and swam into the ship where there is an air pocket.  We go up to the air pocket took off out our mouth pieces talked for a bit before continuing on.  I felt like when we got back down in the water I did get a good ear clear but then we went down to the very bottom and felt the pressure again.  We slowly cruised the bottom of the ocean floor seeing all kinds of sea creatures.  We finally got back to standing depth and now I could not hear shit sound like a hallway cause my ears are all wacked out.  I then realized the one reason I was not able to pinch my nose and clear my ears good enough was because my damn nose piercing was flipped up because I pulled that down instantly from my nose and was able to get a decent clear where I could start to hear a little better and the pain started to decrease.  We made our way eventually back to my hotel I tipped the guy and he end up sending me the photos and videos from our dive.  By the time we got back it was close to sunset hour but sadly clouds started to come in again.  I relaxed at the hotel still trying to fix my damn ears with no luck.  It gets dark by 5 since Jordan is on a different time zone then Iraq so it makes me feel hungry.  There was nothing really around my hotel and although I have not gone into town  which is about 20mins away I was not in the mood.  So I just end up grabbing food there at the hotel which again was super cheap 9$ for my meal.  It was a traditional Jordanian dish that I have yet to try and it was amazing.  After dinner I got interested in seeing about going to Egypt because there was a port right there so started googling shit again.  Sure enough there was a ferry that took 3 hrs and ran from Jordan to Egypt daily that took vehicles.  I was planning on going to Saudi tomorrow but im not in a real hurry because at this point I am not goin to make it to Oman after looking at the map.  So I have two weeks for Saudi so figured one more day in Jordan would not hurt and I could do 5 days in Egypt and 9 days in Saudi before I have to be in UAE to meet friends.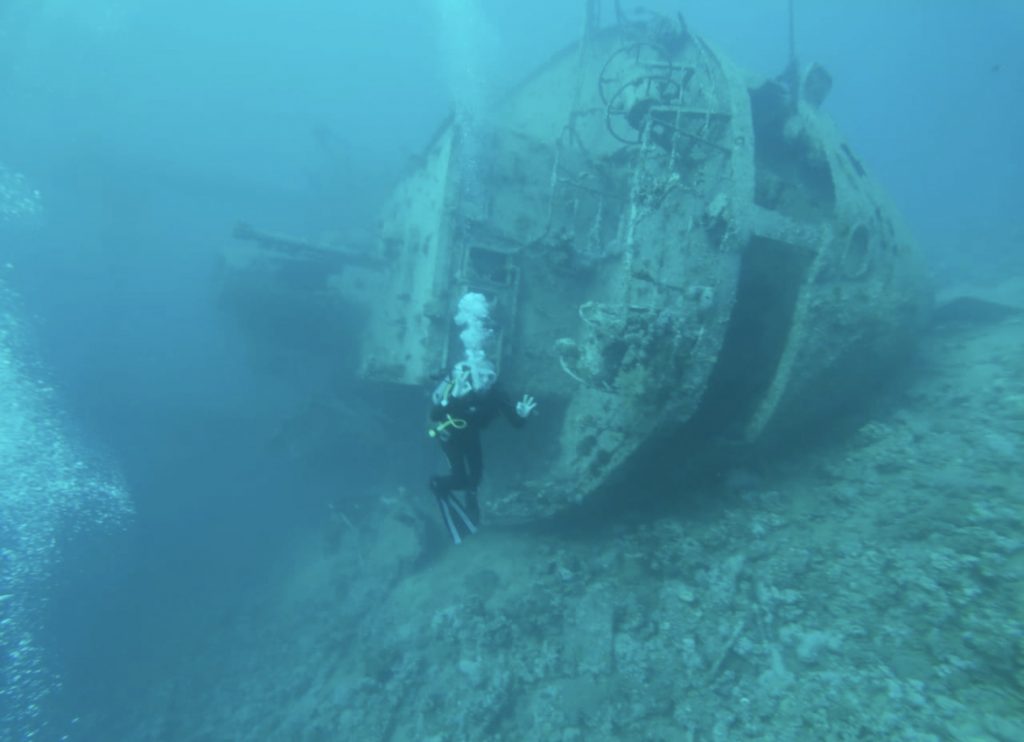 22of Nov – I thought if my ears felt better maybe I would go diving again but they still felt like shit. Today was going to be another lazy day catching some sun rays maybe go into town and then finding out information on the ferry. I laid by the pool for a good 3hrs before I started to get restless and decided I was going to head to the ferry port and then into town. Went back to my room change up and grab my keys and helmet and started on my a few mins north to the port. They told me it leaves at 11pm but I would need to come back here around 5 to talk with someone pertaining to buying a ticket and what not. Think it was around 2 at that time so I did a lazy drive further north to the city of Aqaba. It was a super relaxed beach city that I instantly dug. Everyone out walking around. I went into the center and found an Indian restaurant so I instantly parked the bike and walked in. It must of been still early cause the streets were lined with places to eat but all them were empty. I took my good old time cause have time to kill before I go back to the port. The food again was absolutely incredible Indian never disappoints. There was a castle I saw that I must of passed on my way in. After dinner I figure I would make my way that direction to check it out. I realized when I went to grab my bike there was a beer store a building away so I figured hell why not grab some local beers for the ferry tonight – if im able to even get on it lol. Took two local beers and grabbed this 20% alcohol beer and made my way towards this castle. Sadly it was just ruins of a castle and the site was kinda lame. There were buildings on both sides of the castle ruins so it truly lost any sense of real importance when your got a apartment buildings not even a few feet from the ruins of the walls. I took a stop but was not really worth it to me so I continued back to the ferry port. Parked the bike went inside and the first guy said yeah no problem. Now Egypt has been that one country you read about that is always mixed reviews on if you can get into the country or not with a foreign vehicle. Some reason there super strict on you bringing in a foreign vehicle so I wanted confirmation before I go back to my hotel to pack up and Come back here. So they transferred me to another guy who seem like he was in charge but oddly had to ask for confirmation to another guy. Now most people in Jordan spoke decent English but of course the damn ferry port some odd reason they did not. The guy who looked in charged couldn't tell me why I could not go so they ended up calling someone. I spoke with the guy on the phone and he told me that I would need this paper called the carnet de passage. Now I know exactly what that is and its not cheap but I needed it for Thailand Myanmar India and Pakistan. That was one of the things I did read about but again I would felt stupid not of tried and I rather know from first hand experience then reading shit on the internet. O well back to the hotel I went to enjoy my 3 beers and get ready to continue my trip south.
Social Share