UGLYKIDCLOTHING.com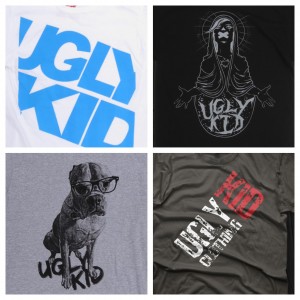 I was lucky enough to meet these guys when I first moved to LA and they  have been supporting me since I moved to california. Now that they have time to bare down an concentrate more on there ultimate goal and have a following behind them since they been featured on GOLD RUSH n GAS MONKEY GARAGE they been putting out some dope ass gear. Check them out an support one of my great friends n a rad company that is sticking true to what they love doing.
THANKS, DAN  n I will speak on there behalf  Thanks for supporting UGLYKID n UGLYKIDCLOTHING.com
(when making appointment send a email with your ugly kid clothing shirt an Ill take 50$ or 10% off  whichever is greater on the day of your appointment)
1-6 in Lousiville, Ky tattooing
7-8 in Detriot, Mi
9-22 home in Long Beach, Ca tattoing
24-26 workin Rock n Ink Tattoo Fest with SpadeTattoo.de
contact the shop or me at Dan@tattoodan.com for APPOINTMENT
28-31 workin at SpadeTattoo.DE in hamburg, germany
1-2 in Bahrain
3-5 in Qatar
6-12 working at Spadetattoo.De in Hamburg, Germany
13-30 home in Long Beach, Ca
check out my weekly youtube channel subscribe like favorite do all that fancy youtube shit at youtube.com/TattooDan83 thanks
Blog/ Journal Section with all my travels partyin an anythin else i manage to do along the way
So it looks like another crazy year of traveling tattooing and of course some more partying. I hope everyone had a great new years eve an look forward to meeting up with all my old clientel and of course meeting all you knew clients. So this is what my schedule looks like up to March
-Washington, Dc Jan 15-18 for the Adrenaline Crew 4 "Verdict Guilty" movie primiere starring my friends and of course ME doing all the crazy shit we do.
-Las Vegas, Nv Jan 18-25 back tattooing in the infamous sin city
-Louisville, Ky Jan 25-30 back to Derby land for a week of Tattooin
-New Orleans, La Jan 30-Feb 1st short stay
- Vienna, Austria Feb 1-4
- Cologne, Germany Feb 4-6 and then back to Austria till Feb 8th
-New Orleans, La Feb 8-16 back in the Big Easy for my 4th year in a row of Mardi Gras and of course a week of tattooing
-York, Pa/Baltimore, Md Feb 16-25 nothing but Tattooing
-Los Angeles, Ca Feb 25-March 4th back home with the boys for some tattooing and partyin with all my friends.
I apologize for laggin so much on updating this damn thing. I get so caught up on everything else myspace.com/Tat2Danl, facebook, emails, and of course the new rage stupid twitter.com/TattooDan. Anyways so this is what I have for the closing of the year. Oct 30 – Nov 5th Ill be in New Orleans, La tattooing an partyin it up for Halloween. Nov 6-8 ill be in Indianpolis, In this will be my first trip to Indiana and will be makin my appearence with TheBig10Tour.com. Nov 9-16 makin another first to San Juan Puerto Rico doubt I will be tattoin while in town but I will have all of my gear. Nov 17-24 back up in York, Pa/Balt, Md area tattooing. Im currently booked for this trip but feel free to hit me up cause ill b back in Dec. Nov 25-30 back home in HOLLYWOOD, CA with my boys tattooing an celebrating thanksgiving an havin such a great group of friends. Dec 1-5 back in Las Vegas, Nv tattooing goin to try an make it a quiet trip an not do much of anything cause. Dec 6-13 Ill be makin my first  cruise in the carribean visitin Hondorus, Belize, Cozumel, and the Bahamas definitely looking forward to this i was dickin around waitin on someone an realized thats where i went wrong waitin for anyone so fuck it im going. Dec 14-26 back in York, PA/Balt, Md area tattooin an celebrating the holidays with the family and anyone i couldnt get to in nov nows ur chance. Dec 27 my fuckin BIRTHDAY either in Las Vegas or Mexico till Dec 30. Dec 31 – Jan 10 back home in HOLLYWOOD, CA for new years eve the rose bowl an the college football national title game at the rose bowl. Then comes down to if im goin to move to Las Vegas for a lil while or say fuck it and stay on the road again.
So HOPE EVERYONE  HAS A GOOD HALLOWEEN – THANKSGIVING – XMAS (i choose to leave christ out) n of course HAPPY NEW YEAR and hope to see everyone by the end of the year an into 2010 if you would like to make any appointments hit me up on email at Dan@TattooDan.com