So going to start this out like this – due to a PUSSY ASS VIRUS and weak minded humans  who are scared to DIE i had to push my motorcycle trip back a month and two days.  After attempting to get to croatia 3x on the 4th try I finally spoke with a manager of the Lufthansa airline and she finally put me on a flight.  So June 16th I get the airport for the 4th time with my bag checked in and boarding passes in hand.  After a few drinks from the lounge I finally head to my gate where it is fucking packed.  Everyone had to get there passports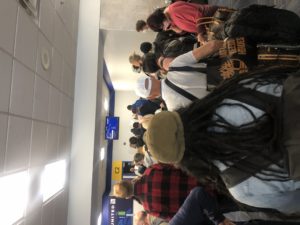 checked (which never has happened before) before we could even board yet all they did was do some scribble on our boarding pass.  I get my damn scribble on my boarding pass and on the plane I go with two coffee cups full of booze that i took from the lounge.   I pass out majority of the flight wake up with two an half hrs left so got to watch the movie "Bad Boys for life".  Landed in germany and had 4hrs till my flight to croatia.   After searching for a lounge that was open I was told sorry the only lounges that are open were in terminal A but i will not be allowed to enter because I am flying out of terminal B.   So to celebrate finally being out of the USA I grabbed two beck beers at 8am for a whopping 6euros and sat on my computer to kill the time.  Finally it was boarding time for the capital of croatia – zagreb  and off I went.  Now this is where I was semi sweating it.  To see if I can actually enter the country. I walk up to immigration guy he ask why I am here didnt know if i should lie or just tell the truth.  So I told the truth and said for holiday he ask if I had accommodation i said yes and into croatia i am.  I head down to my next gate to Dubrovnik and after a short flight I was finally back in Dubrovnik 9 months later where I met up with my friends wife Katarina.   (My motorcycle is actually staying at her fathers house). Katarina takes me to meet my friend her husbandDario at a cafe and he drinks a coffee as i drink another celebration beer.  We then head to Katarinas fathers house to get old Bernard out of his hibernation.  Of course the battery is dead so we thought lets tow this thing behind the car and maybe get some charge since we did not have jumper cables.  After about being dragged around for 6 miles we end up at Dario and Katarinas house where bernard was not starting.  Katarina made us dinner so they stuffed me completely full of food and we decided tomorrow we just buy a new battery for bernard.
DAY 2 wake up at 5am and got to see the sun rise a bit and passed back out for 3 more hours.  Got up met up with Dario for his daily coffee and then dismantled Bernard to get to the battery and called around to a few shops to see if one was available.  We finally found one they put the acid in and suggested we wait hour an half before installing it into the bike.  Dario had errands to do so I stayed at his house repacking and organizing my bike.  After 2 hrs boom bernard started right up.  I loaded up my side bags and off to just take a jolly old cruise on bernard and man did it feel good to be back on my bike in foreign country.  Now this is my 5th time in the country and Dubrovnik is pretty small so I feel like I know the area pretty well so I just cruised around with no real place to go.   In Dubrovnik the past few years has sky rocket in tourism it almost lost its charm.  I was here 9yrs ago for the first time and I thought of it as a hidden gem and one of my favorite countries.  Now the price of everything here is incredibly high.  Anyways since the tourist are so packed in in the old town of Dubrovnik I avoided
it last year.  Now post mr.co19 i decided i am going to take bernard into the old city and get him a photo in front of the gates.  As I was there ran into some other adventure rider from austria who just got into town himself.  We talked for a few he ask what my plans were I told him where i am planning on going he wished me luck being i carry a usa passport said it was bad enough for you guys 4yrs ago with your president now your country is one of the most avoided place for us europeans.  I put my head down in shame and said yeah unfortunately i dont believe in nationalism at all and so it sucks have to be referred to such a place but i only wish i could get another passport one day.  He was carrying on to montenegro in a few days so wish him luck on his trip and we parted ways.  I got back to my hotel relax for a bit actually passed out cause of the time difference and not having anything to do.  Woke up two hrs later where I went out to the bike put on a new chain guard since i ripped off the plastic stock one last year and added a cell phone holder on the handle bars.  Added some countries stickers to my bags that I didnt pick up last year and organized my bags one last time and met up with dario for a beer.
DAY 3 got up early yet again rolled around for a few hrs and passed back out.  Finally woke up at 9am to my phone ringing cause my boy mikee was calling.  We bullshit on the phone for a hour or so and i broke out these rubber band things i bought to try and exercise on this trip.  I am a little over a year away from my kayak trip where I will paddle 700 miles down the sea of cortez so i feel like i should start exercising on the daily to prepare.  I showered then took a walk to a supermarket pick up a bottle of water and grabbed a orange as well.  I desperately needed to get money exchange that day so I met back up with Dario around noon.  He was running a yacht captain and assistant to a grocery store to grab supplies for these 4 dudes from the usa who been partying on the Adriatic.  The guys flew to Belgrade Serbia for the weekend so the captain was able to finally get out himself.  The captain saw my bike and mentioned he had a friend in Split Croatia that is a president of a bike club and is holding a GS cevent on the island of Brac.  I got money exchange and during this time the guy got in contact with the president and said it would be okay to go if I would like.  I got all the info on the event and when I got back to my hotel I looked into the hotel the club was staying at and was not liking the price. haha. I try not to spend over 50$ a day on a hotel when traveling and this was 82 a night.  Later on during the day I met back up with dario for dinner where we had pizza and still
undecided on it all.  I asked Dario of the ferry price times to get there and where would I leave from.  He got me all the info during dinner and ferry was cheap it was just that damn hotel price haha.  After dinner I went back to my hotel Dario put his daughter down to sleep and then hit me back up to grab a beer in the old town of dubrovnik.  Again I have avoided the old town the past few times due to all the damn tourist but I said sure I am curious what it looks like post corona.  We went into town and funny thing is we ran into the yacht captain as soon as we got into the city walls.  He told me I must go the president is a good guy who has traveled around the world himself.  So I was getting more convinced to just go now to be able to meet a person like that.  Dario and I had a beer walked around took some photos of the ghost town and I went back to my place.
DAY 4 – Woke up early this time because I had to I was meeting with a lady who wanted to interview me for the local newspaper.  Dario had arrange to meet her at a cafe near the guest house I was staying at.  She asked a few question took some photos and I went back to my guest
house to get checked out and load the bike up and head over to Dario for a bit before leaving for the ferry.  After leaving Dario I finally started my trip and made my way north to a city called Ston who has the second largest wall in the world after China of course.  Got there and did some walking around inside this wall.. Now its funny they say a symptom of this man made disease called 19 is shortness of breath.  Well with everything fucking shut down exercise is not as easy to do and I will tell  you what I couldnt breath worth shit walking up this mtn walls.  After I got my steps in I got back to the bottom and had some oysters for a little snacked and continued on my way north to Makarska.  After some light drizzles I
finally arrived in the city of Makarska where the ferry departed I took some photos killed some time and then boarded the ferry at 6pm and departed at 630 to the island of Brac.  Once I arrived I had a hour drive to get from one side of the island to the total opposite side where the club was holding its event.  I arrived just after there departure to dinner to another town on the island.  So i checked into my hotel room drop off some stuff and hopped back on the bike and now heading 30 mins to another beach town where the club was having its dinner.  I arrived called Rakela the clubs president who I was in contact with where he greeted me with open arms and sat me down at a table with 3
other couples.  They instantly introduced themselves and we carried on conversations about my trip my bike and all that stuff as the restaurant served a fish dinner.  After dinner the club president gave me a bottle of wine that commemorated the clubs 11th anniversary.  Shortly later we attended a little concert on the water front.  I was happy as hell (for those who dont know me that well i am a huge music freak as i just absolutely love live music) and this was the first live music I have seen in months.  Of course everyone had some drinks so after the concert they organized a police escort a half hour back into the other town.
DAY 5 – I met up with Rakela in the morning and he mentioned there is going to be a
national news crew here would I be willing to talk.  So of course it was a honor to, after the few questions we loaded on the bikes and everyone got out and went on a ride.  I was following a rider from germany who is croatian and one moment he pulled over the side of the road so I thought something was wrong I pulled over as well.  During this time he mentioned his name was Mato and he wanted to take some photos as the rest of the group passed us.  When they were all passed he asked if I would like to catch up with them or ride with him.   He wanted
to eat some breakfast and then mentioned we can go to the top of this mtn Vidova Gora.  Which is the highest mtn on all of croatians islands I was told.  So we grab some brunch and then cruised to the top of the mountain to take some photos.  After the photos he mentioned about going to another town to eat again haha so off we went to another beach town where he order some more food and I opted for some liquid bread aka a beer.  Next stop was that we head to the whole other side of the island (the port where i came in the day before) and stop for a coffee.  So we cruised over there he had a coffee i went with another beer.  Next we choose to stop at one of the most famous beaches in croatia the Golden horn.  Where he had another coffee and I took another beer.  While we were sitting there he asked if I would like to go offroad.  I said i would love to I enjoy riding offroad.  He mentioned the road is extreme that his street tires and my rear tire may not be good but lets try.  I was all for it so up the mountain we went.  The first segment was actually fairly easy I thought. Steep but not to crazy only thing thats really crazy is its one lane road with traffic
going both ways and its a direct cliff off the side.  After about 20mins we hit pavement again but not for long he asked if I want to do more and i was like of course so then got on a what I beleive was a horse path so it was super fun and easy but it turned into going down the mtn again so it was steep and very deep and loose gravel that def was not easy.  It went from hard packed stone to loose gravel for about a hour or so (still along the cliffs) before we got on some solid dirt where things became super fun.  I had the ABS turned off so we were going like 40-50mph and then came sliding into turns  and then ripping out of it.  After about another hour or two we hit pavement but I had some much fun riding with Mato it was truly a blast.  We arrive back at the hotel around 730 and realized the group left for dinner so we head right back out of the parking lot and straight to the restaurant for the todays dinner.  We got there just before they started serving the appetizer.  Ate dinner all awhile they had music playing.  Rakela the club owner asked what I was planning on doing tomorrow after check out and if I would like to come to the club.  Without hesitation i most definitely wanted to and said that I could just sleep there for the night if I like.  So after dinner went back to the town where the hotel was and again had live music playing for us at a different water front.  The night closed down back to the room said good bye to the friends I was hanging out with cause I was not sure if I
would see them in the morning.
DAY 6 – Woke up got checked out of the hotel and ran into Mato as he was checking out he said you can come with me ferry leaves in a hour.  So loaded up the bike and off to a different ferry port 30 mins away cause this time I was going to Split.  Loaded up on the ferry and back to mainland we went. Once we arrived it was noon and Mato mentioned he was heading back home to germany that we stay in touch and hope to connect soon.  Rakela told me he would not be at the club till like 4 as he had to pay and collect money from the weekend that he would catch a ferry later.  So now that I am back on land in the city of Split with nothing to do i figured might as well do some walking and then head to the beach and relax.  Around 5 I woked up out of my beach slumber and still no word from Rakela I know he is busy man so I did not want to bug him so I thought I will just head north and camp for the night.  Well after I got out of the city of split within 30mins I was
pulled over.  It was a cop who was at the meeting sunday night.  Het told me speed limit and said but dont worry about.  He asked where I was going I said how I was going to go to the club but I think Rakela is still on Brac so I am going to head north and camp before it gets darks.  He said no its no issue that he would call Rakela for me.  So he does and Rakela told him that I should head to the club he will be there in a hour the doors are open.  So i thank the guy and turn back around and towards the club.  The doors to the club were open cause Rakela also owns a kick boxing gym so guys were there training.  When I arrived at the club a rider I was talking with on the ferry was there about to train but before he started he got me situated and settled.  Shortly later Rakela finally arrived and showed me the new club room that had all kinds of cool shit from his travels.  He got me a club t shirt and gave me one of his books that he wrote of his 300,000 km (180,000 miles) trip in which I had him autographed.  He then asked if I would write on the wall that they have a lot of world travel motorcyclists that come through the club but since the new section just got finished I would be the first person to sign a brick.  I was truly honored and tickled to death he even wanted me to do such and so I did.  They then order pizza and we kicked in the newly finished club room for a bit while he showed me videos of some of this travels.  Another rider Kristian was there he mentioned he had apartment he was renting down the street that had 2 bedrooms if I wanted to sleep there instead of the club saying its a bed so it be more comfortable.  I took Kristian up for the offer and we grab some beers went back to his apartment he rented and shot the shit.  Kristian to was at the meeting but lives down in Dubrovnik.  He booked a place up in split to ride around the area for a few days.  After we finished our two beers we hit the sack cause we both wanted to be up early.
DAY 7 – Kristian and i both Woke up early I grabbed my shit to pack up my bike and was heading to these beautiful waterfalls and lakes.  Kristian showed me a route to take that avoided the freeways so by 9am I had a 4hr ride north towards zagreb.  The roads
and sites were amazing but it was windy as fuck so the ride sucked.  I finally got to the lake a hr earlier cause I was cruising I guess pretty fast so I parked the bike bought my entrance ticket and headed into the park.  This place is a true beauty with the prettiest clear turquoise blue waters and the falls from every edge on site.  I got in 7 miles of waking in the 3 and half hrs just staring in awe at all the waterfalls and see through lakes and how peaceful it is with no tourism.  (normally the park is so packed you have to make a reservation with a set time to even visit the falls). After the park I was on the lookout for a place to camp for the night.  So I started my
way north and in about 10mins I came upon a campground.  They informed I could upgrade for 4euros more to go from camping spot to an actual bungalow with a bed.  I feel like i would of been a idiot not to jump on that so I agreed to pay extra.  Got settled in and head down towards the campsites restaurant for some dinner.  After dinner I grabbed two beers and some fruit from the market on site and went back to my bungalow to sit on my stoop and read the book Rakela gave me the day before.
DAY 8 – Woke up semi early cause I wanted to get to the captial of Zagreb and get my motorcycle dropped off for service.  Its long over due since it has not been touched in 3yrs.  So I woke up to hit the road but my friend Dario mentioned about stopping at a town called Slunj that had some nice little waterfalls.  So I cruised north about a hour to the village took some photos and carried on north.  I again opt to not take the freeway so it was a 2hr drive.  I arrived in the city at 12 and already kinda knew where I wanted to stay if it was not sold out called Swanky Mint Hostel.  Unfortunately the cheap single private room was sold out so it was either go searching for another place or pay 10 euros more a night for a double room.  O well guess thats what I get for not booking it in advance.  I was early so I was not able to check in which was fine I unloaded two bags from the bike and made my way to the bmw dealrship.  Once I arrive inside it seemed like everyone was surprised or some shit to actually work.  Phone was ringing off the hook and they just stared at me like a idiot when I said I wanted my bike serviced.  After awhile a guy comes out does not say hi or anything just straight up says what do you need.  I tell him my bike serviced and then he to looks fucking confused and says do I have the title to my motorcycle.  Not sure why you need a fucking title to get the damn motorcycle service is beyond me but of course I had it so I go get it come back and he is gone.  I again wait for this dick to come back takes me paper and says how long you in zagreb we cant have it done today.  No shit I kinda figured that I said its okay im here for 3 days if its a issue I can just go to a dealership in hungary.  He said no its okay we will have it done tomorrow by noon.  Im like really is it that a big deal to some people like what the fuck of course I figured it be 24 hrs.  Actually was surprised it be that fast.  So give this fuck head my keys and uber back to my hostel.  Get back at 130 yeah thats how long i was there just to drop off my motorcycle.  Anyways I am able to get checked into my room hop in the shower and relax.  Around 5 I head out into town for some food found a indian place so of course thats my go to.  Really nice people and amazing food afterwards stroll the streets for a bit head back to the hostel to see how the atmosphere is there.  Grab a beer in the bar but it was all fancy def not the normal backpacker vibe you get of just low down good vibes where everyone talks to each other.  It was almost like the place to be type of bar some older people and younger people and all dressed up.  So i was a bit bummed and just went back to the room and googled if there was a metal bar.  Thankfully there was so off to the bar Valhalla.  Walked in def smelled like a metal dive bar it was hot as fuck shitty ac but the volume was at level 2 and this was 830pm.  I order a beer sat down in hope maybe by 9 they crank it up but nothing people were coming in and it was getting hotter and all you heard were people talking could barely even hear the music so around ten i left and went to my place for the night.
DAY 9. Tried to sleep in cause I knew I had nothing to do but at 930 am my phone started ringing which is usually my boy mikee but it was the bmw dealership telling me that my bike was done.  Well I know the hostel has no parking so I am like fuck it i am just going to leave it there for another night and get it fri cause I knew all day I was going to walk around the city.  So by ten I get my ass out of bed and hit the streets and start exploring.  I started by going to the Nikol Telsa monument near the st Marks church.  Went to the zagreb cathedral which is under construction
then decided to hit up museums.  I try to go to 2 museums all were closed due to the earth quake that happened a month ago.  So go to a 3rd they said only half of it is open other half is closed cause of the earthquake and that museum sucked literally nothing was in there.  Then attempt a 4th museum again fucking closed from the earthquake so I gave up and after walking 4.5 miles in circles I decided I will just go back to my hostel read my book and start up on my blog.  At 6 I got out to eat at a Sri Lanka restaurant and then saw there was a 360 bar so went up there had a beer and took in the views.  Afterwards I strolled back to my hotel to check out the scene there where it was booming.  Drank my free jager the hotel gave me to kill some time till 9 then decided to hit the streets to find a live music venue.  I came across this one bar called Booze and Blues that had live blues music.  Well being it was thursday I am guessing thats the reason they didnt have any music going on.  I made the walk so I had one beer and just called it a early night again.
DAY 10 – Woke up early to grab Bernard from the dealership and then made my way back south near the lakes to this abandon
Yugoslavia airport.  It was a mission to find but I knew I was there when I saw the landing strip paint marks.  I heard there was all kinds of crazy tunnels and shit in the mountains which was used as the actual airport hangar.  Well when I started heading to the mountain I saw a police van instead of driving right by them I actually stopped and asked is it this way to the Hangar.  She said they are closing it down (like i mentioned its abandoned its not even "open") so I ask like blow it up and she said yes. I asked when and she said soon and that she turned around a group of 5 motorcycles already so if you have friends coming tell them to turn around as well.  That had me  super bummed cause it was a 2 an half hr drive down here just to see this place.  On the way back I noticed some warning signs for mines and before I got to the airport I notice there was some caves so I figure well I got to do something so I decided to go to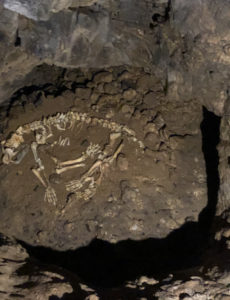 caves.  It was a short cave think he said 200m so 600ft long and inside was really not all that crazy one cool thing was the fact there was some remains of a dead bear.  Back then I guess these cave bears range around 5m so 15ft big.  The skeltons shows that this would have been a baby bear.  After my little caving I made my way back north. I knew there was a war museum literally half way back so I made another stop at that.  Read up on the war when they gained there independence in the early 90s.  After taking some photos I hopped back on the bike and made my way into the city for my last night.  I was debating on what to do for my last night. Everything I was reading only is telling me I can not enter Hungary tomorrow but there is 5 boarder crossing from Croatia into Hungary so I feel like my odds are pretty good I maybe able to sneak on into the country if I go to the smaller ones.  So I grabbed some indian food for dinner and called it a early night.
Social Share