So I am going to start this journey from the time it arrived in Hamburg Germany.  If you follow my last trip you know cause of the passport i carry and the dictating scum fuck in office i am not able to go through iran.  So my biked got shipped in dec from pakistan to germany.  Bernard arrived in Feb where a really great friend of mine Moe from Spadetattoo picked him up. 
Moe Gave him a spa day and put some miles on him so he will be ready when I arrive.  I got to germany June 4th worked for a few days and then June 6th got Bernard out of his little home packed up in Moes driveway and got him all ready to actually get him out on the road.  June 7th was the first day I got to ride Bernard where  I took him about a hour south from Moes place to his shop where I work at in Hamburg.  Bernard sat over night but sat had one last tattoo to do and then finally really got to take Bernard out where we could hit the auto
bahn and go as fast as we want.  Unfortunately it was one miserable day windy as fuck and rain majority of the ride but we made the 4hr drive south to Essen Germany.  I park him and then off I went to a music fest called Rock Hard. June 8th was finally a nice day so did a casual stroll that should only take 4hrs but rode some towns visit the church in Koln for the 4th time and made
my way to the next place in Schwetzingen Germany called Noble Tattoo.  I worked all week we did get one ride in where we headed south to see my boy Shawn James perform. But now was going to leave Bernard for another lonely two weeks as he sat at a parking garage at frankfurts airport. As I will be working a week in Sweden and then heading to Finland my 93rd country for the first time.
So now fast fwd to two weeks later June 27th I flew back into Frankfurt germany got picked up at the airport from the company that has been watching mr bernard.  I arrive at the parking garage load him up with the clothes i had for the past two weeks and make my way south to switzerland.  First I had to stop at Noble tattoo one last time to grab my camping gear that left behind and my tank bag.  So grab our last few items that we need and headed south to switzterland.  I had plans to never really go back to switzerland cause my first time around sucked but saw this place called interlaken and said fuck it its on my way to spain I'm going
to go.  So instantly when i arrived i was pumped it was so gorgeous this amazing blue lake with snow cap mtns all around and best thing it was 90 degrees.  Which was not really good cause i planned on camping but that was not going to happen in that heat i don't even want to think of sleeping bag touching my skin in that temperature.  First day there just cruised around the lake went to this outlook and ate some dinner.  Now since i had no hotel planned i try to book a hotel and with no luck since it was a sat and the temperature was so nice.  So i ended up getting a hotel 15miles away outside of the lake.  Day two I woke up and head to this mtn further south from the lake that was known for another outlook but had a see through bridge so I thought it be comparable to
the bridge in china that I been to.  So I set off that direction towards the mtn and when I went to book the chair lift up they said there is a few activities I could do ones a chair zip line a big wheel and a scooter.   They were set up at different locations so you could take the chair down to the big wheel grab the big wheel and head down the mtn to the scooter.  I instantly jumped on that idea.  Now when I got up the last chair at 7000+ ft there was a option to stroll higher up the mtn to a glacier lake that I knew nothing about.  Since I have nothing but time thats exactly what i did so up the mtn I went to the lake where there is just another gorgeous lake to stare at.  There is snow all around and still ice in the water and that day it was 88 degrees at that elevation.  I hung out and just soak up the air the scenery and just be happy to be alive and healthy enough to do this and reflect on how the fuck did i start this all.  After enjoying time to myself i started my march back down the hill to the other view point.  Some reason there was a million asians up there like all kind including bunch of indians literally not one white person was
walking out to this glass view point.  Needless to say in typical asian fashion it probably took a hour to get to the end cause there taking a million ridiculous photos.  After I got some of those silly photos myself i headed down to the zip lane.  Now its switzerland so there is no feel of risk at all on this thing.  Its like a damn machine so to me it was lame.  Next big wheels so the guy handing them out was all tattooed so he told me he's like hey man you can drift these things around the turns cause the left break controls the left when and the same with the right.  So now he has me pumped but that zip line was just lame.  But fuck no those things were so insane and so radd literally drive on a cliff side I have no idea how that even exists there but i wanted to
go back up and do it again.  Next was a scooter I'm like this should be interesting cause the platform is literally just a big as one shoe so the wheel base is tight which makes it sketchy as shit and fuck those things truly were dangerous as fuck.  Not only are you floating down this mtn but the end your literally mobbing down the city streets so there are cars coming up.  I saw two asians eat shit one was picking himself up off the concrete the second one literally just hit the ground so heard the squeaky funny as hell asian cry.  Needless to say it was one of the best active days I had in a long time.  After this I enjoyed a horse meal since dumb
asses usa has it banned but anytime i see that I'm all in.  After din I try to find this castle that was label on my one app so I went castle hunting this time I was on the other side of the lake and was heading up in no mans.  When my gps said i arrived I was literally in a field with nothing around so as i took a photo of the area and Bernard decided to take a little nap and down he went.  What most of you do not know the bike is just shy of 700pds so getting it back up is not always a easy task.  Thankfully it fell semi up hill so it was way easier then the normal.  After bernard was up back to my hotel by this time it was like 7pm arrived at my hotel at 8 and the next day I had a big day of riding ahead to my 94 country called ANDORRA.  So next day came quick and was on the bike by 7am for the 10hr ride ahead.  It was a fairly easy ride but had to cruise through france and those fuckers literally have a million damn toll booths but I got into Andorra safe and sound and what a crazy little country this is.  Its literally
24 miles from one end of the country to the other and its all in this deep ass valley so what a view it was arriving down through the mtns maybe on some of the best roads I ever road just perfectly paved and windy as hell to this big ass city in the middle of it all.  I get to my hotel and get checked in and start exploring around town.  It was around 8 at this time and I knew they had this famous salvador dali monument right on this river.  So grabbed some photos and some food and try to plan my day out for the next day.
  Now my goal of coming here was to ride downhill mountain bike but when I got to the hotel I saw they had all these museums as well so figured I only need a half day riding anyways cause Ill be dead so ill get up early and hit two museums up.  So the next day I woke up and when I found out they had a motorcycle museum I could not pass that up so I head about 30 mins out of town to go
to this museum and before I got there I saw they ice go carting so pulled over to see what the deal is with that.  Unfortunately like i mentioned I was up early and they do ice skating during the day the go carting is at night.  So back to the motorcycle museum I go.  When I arrived there was like ten other bikes pulling out and no one was in the parking lot.  So I kinda thought it may of been closed but i walked down into the basement and even on the door it said it was closed but there was a lady in there so paid my 5euro to enter and walked around.  It was really small but i thought it was well worth it was laid out with different years of bikes.  So took my photos and off I went to the next museum which was a car museum.  Now I do not have the slightest clue how they got
these damn cars in this tiny ass building when there is not even a elevator and its 3 stories but the collection they have in this has to be worth millions like multiple millions.  Now I am no car guy at all but the antiques they had in this place I was truly amazed by it.  So enough with the museum now it was time to ride some downhill.  So get to this mtn and instantly realize this coming week was the UCI Mercedes Benz downhill event so there was banners and shit everywhere.  On each light pole they had actual bicycles tied to it.  So I was pumped yet kinda scared to see how gnarly this place really was.  I park bernard find a rental company grab a bike helmet and my lift ticket and up the mtn I went.  So originally I was just going to stick to the medium courses but after realizing the medium was
not all that bad I had to try the hard.  Then I decided to try the black or difficult course and that didn't work out so well for me cause of course I busted my ass so I left some blood behind.  After I ate shit I was like I'm going to grab food.  So I see on the menu foie gras I'm like perfect another thing banned in the usa I take it. After done with din I head back up the mtn for a few more runs and
my legs not even my arms starting to get light so I was like fuck it I am just going to head down before I eat shit again.  So there is pretty much one course that actually goes to the bottom and from the map it looked like a long ass one and fuck that thing was.  I was so dead by the end and I was actually glad I did leave in time cause it look like a storm was a brewing.  Got back to my hotel and got to relax clean up and there was a free cirque du soleil show that night in town called Rebel.  It was rock and roll influenced so next hit that bad boy up the show was amazing i thought had some of there language and some english songs but honestly no complaints at all out of my mouth these past days literally could not of been any better and the week ahead was going to be a interesting one. Next stop SPAIN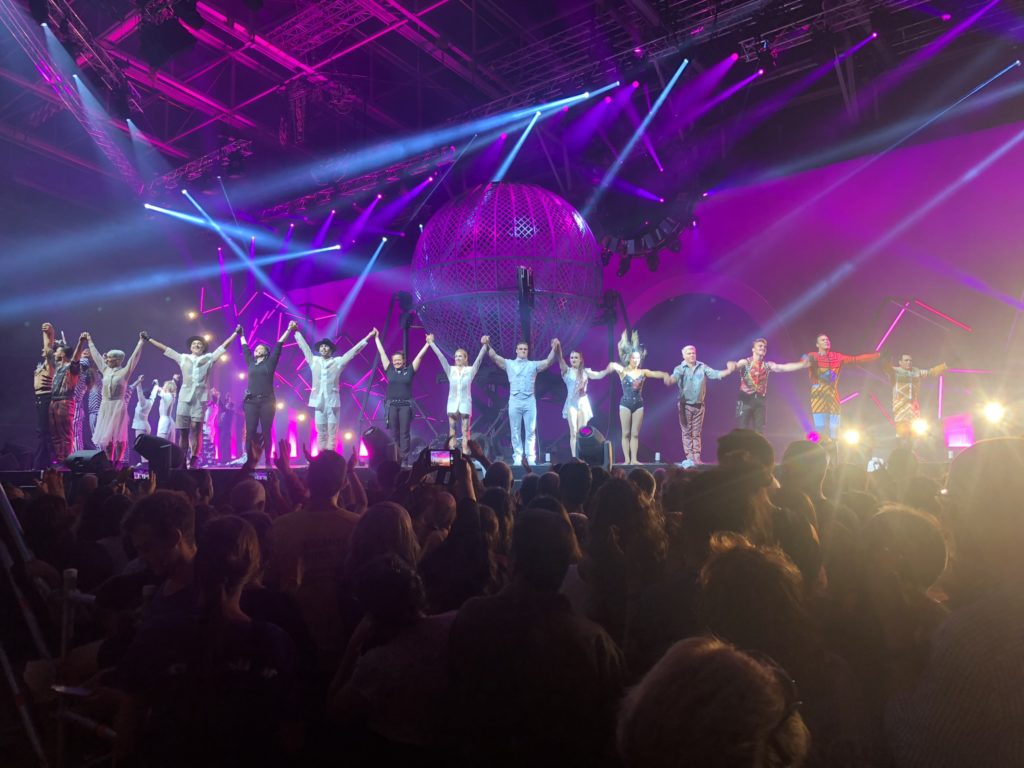 Social Share