Day 25 – After the crazy ass winds died down from last night I actually slept amazing.  So waking up in Poland and decided I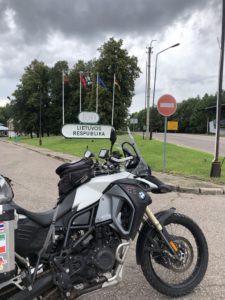 might as well cross over into Lithuania and camp there for a night before heading into the capital city of Vilnius.  Packed up the bag and started the drive towards the border.  I once again found an area on the map with a bunch of lakes.  So I aimed for that area and started my hunt for a good place to tuck in for the night.  Right before I crossed over I was sure to grab two beers and decided to get some sausages to cook up for the night.  After scrolling the lake for over a hour I finally found a place that was not taken and pulled down in.  Went hunting for some fire wood and set up camp for the night.  While I was setting up camp a lady walked by
with a dog who asked if I spoke English I mentioned yeah.  She was curious if its legal to camp here I told her I was not sure I figured I would camp if someone tells me to move I will otherwise I think its okay.  We talk for a bit and after she invites me down the way to have some beers later with her and her husband.  I agreed and said I will come by later.  About two hrs later I decided to take a walk down a dirt path till I stumbled up on there camp.  Of course I had to show up right in time they were going to eat so I mentioned I would just come back later.  They insisted I said and mentioned they have to much food that I eat with them.  I finally agreed they sat me down got me a beer and I introduced myself to her husband.  It was a German couple who travel every year for 3 weeks during this time for there summer holiday.  She is a teacher for the mentally challenge and he is a carpenter.  They had a really nice set up as the truck with the camper on the back.  They did show me the inside and was really surprised how spacious it was and they go on to tell me how takes just 5mins to detach and they can just drive with there truck if they like.  We talked for a bit ate a sausage they had enjoyed another beer with them played with there really cool dog they had and got to witness one amazing sunset on the horizon.  I didn't want to over welcome my stay so I mentioned ill head back to my camp to get my fire started before it gets dark.  Once I got back to camp got my fire started and decided to cook up my little sausage.  I was no where near hungry for the amount of sausages I had so I thought I cook them all and maybe tomorrow morning Ill have one or two.
Day 26 – Woke up a bit early cause my damn air matress was completely flat so I blew it back up and decided to crash back out for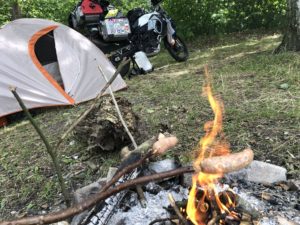 a few hours.  I only had a easy 3hr drive into the city so I was not in any hurry to get there.  Finally got my ass up around noon and decided to re start that fire and re heat these sausages.  Ate one and didn't taste so good so I got half way through the other one and thought eh im good.  So next thing to do is pack all this shit back up.  After got everything situated I try to find a route into the city that didn't touch any
freeways and began my journey.  After a stop for gas I got into the city about 4hrs later.  I got checked around 5 into this hostel that supposedly had these crazy all night parties in the basement.  Well unfortunately right now there not having them cause I guess the basement needs some work for sitting empty for 3 months during the corona.  After laying down on a bed for awhile I decided to go walk around take some photos and get some dinner.  Came back to the hostel around 9 and not much was going on but I needed to be up early tomorrow anyways to get my visa for Belarus.
Day 27 –  Got up at 8 am grabbed my passport and started my walk to the Belarus
embassy.  Of course the one I arrived at is not the one that you go for to get a visa.  So I see the address on the building where I am supposed to go and make my way to the next one.  I got to the second one around 9am and was told this one does not open till 10.  I found a coffee spot near by and went in for some tea and a muffin to waste away the next hour.  Made my way back to the embassy explained why I want to come and was told there is two ways to get a visa got to wait 5 days and its only 60 or get it tomorrow and its 120.  I really did not want to waste 5 days in a city so I got it expedited.  To get the visa I needed to go across the street to a place where I had to get medical insurance in case I get the 19 and had to get passport photos for the visa.  Got that all take care of for 15 $ and found myself back in the embassy handing over
all my stuff paid the 120 and said ill see you tomorrow.  Made my way back to the hostel around one after checkout time and told them how I apologize I was stuck at the embassy and if I could extend my stay for one more day.  Thankfully they were super cool and the room was available for one more night.  I asked for a motorcycle shop near by cause I desperately need spray for my chain.  After finding where I needed to go I was back on another 30min walk to the other part of town.  Grabbed my spray got back to my hostel and laid down.  It was 3pm and I already walked 6miles today.  I played around on social media for a bit and around 6 I decided to get my ass back up and go in the hunt for some food.  Indian food was ironically right around the corner so Indian food it was again.  After dinner I did some walking around and got back to my hostel to chill in the courtyard.  The hostel actually had a tattoo shop connected to it so I finally met some of the artist and we sat and had a few beers till about 11 when things were starting to get quiet and close down so we called it a night.
Day 28 – Check out was not till noon so I got up slowly packed the bike up got the chain sprayed.  Checked in my room key and made my way back to belarus embassy this time on my bike.  Got to the embassy before one cause at one they leave for a hour lunch break.  Walked in handed off my passport and I was on my way out of the city to the next camping spot.  Before I got out of
the city I stopped at a market picked up some fruit sandwich salad and some water for tonights dinner in the woods.  I arrived at yet another beautiful lake but this water was cold not like the other two I stayed at.  It was a nice opening up on a hill that over looked the lake found my spot gathered some wood and started to set up camp.  I remember when I started blowing up the air mattress that it had a hole in it.  Thinking fuck tonight is going to be rough night.  On the way in from the direction I took there was no sort of store at all.  So I decided to good a convince store and found in the other direction 2miles away is a place.  Walked in the store and literally
right away handing from like a candy thing was super glue.  I could not just get super glue so I decided ill grab a beer as well.  Got back to camp pulled out the patch kit and fix the tiny ass little hole.  During this time two other people pulled up at camp there was a couple that was to my far right a stone throw away and a family with fucking kids to my left a stone throw away.  Shortly later some kids pulled up far from the lake on top of the hill.  Eventually they came down to the lake and started to talk to me.  Found out about my journey we bullshit for awhile during this whole time one of there girl friends was bringing shots down to us.  After about 3 shots they said hey your welcome to come up to our camp.  I could not turn down the offer but mentioned I only bought one beer they said they had plenty its okay.  We got one hell of a fire roaring and partied till the sun came up.  The family and the little couple probably hated us cause I know we were not quiet.
Day 29 – After falling asleep at like 6am I woke up at 11am cause the sun was beating right down on the tent. Got my ass up and started packing things up.  The guys from the night before came down we hung out along the lake for a bit talked a bit more and I mentioned I should be on my way.  I had plans of going to this museum nearby cause my boy mike saw where I was staying and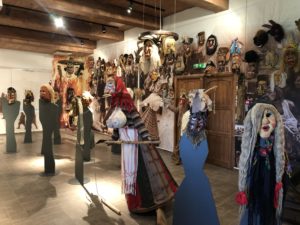 suggested a pagan looking museum.  After saying good bye to everyone I made my way into town where I bought the super glue to this museum.  The first half of the museum was all about the history of the lake most of it not in English.  I didn't see anything my boy mike suggested so as I was going to leave the lady said wait there is another part we have to walk over to.  We made the short walk to another building they open it up for me and this is exactly what he was talking about.  A bunch of crazy demonic masks the lady informed me there was over 200 mask inside and it was a ritual they do every year here in this area of Lithuania.  Finally left that museum and made my way to this old ussr nuclear weapon zone.  I didn't really not know what to think of it I just saw it as a suggestion on my maps so I figure why not
im here.  Got my ticket and walked down in the ground and I will say it was by far one of the eeriest feelings I have had in a long long time.  Not sure if it was because I was literally the only person in the building besides one other couple and the guy she was with was blind.  So definitely was odd to me cause there was low entrances everywhere.  After getting lost inside reading all the history of the base and the ussr and even Cuba I finally manage to myself out of there.  It was a hot one today so when I got out I grabbed me some ice cream and relaxed in shade for a bit.  Today I
had plans to head to this island off the coast of Lithuania only two hrs away.  I got into the town where the ferry is to grab some dinner and hop back on a ferry over to the island.  The island was super close think it was a 5min ferry ride cost 10$ for the ferry and pass into the national park.  On my little camping app I use I saw there was some sort of large parking lot near the beach where you can camp so I made my way down to that area.  Found the big lot and there was like 6 campers all set up there so I was bummed thinking I got to find a more secret place.  Found my little nook up the bike path (dont think it was legal to ride my motorcycle on it but fuck it). A short walk away it seemed like there was a little bar restaurant on the beach so I thought I walk up there for a beer and to catch the sunset on the Baltic Sea.   The owner of the bar was interested me and asked where I was from he was born in Lithuania but been to Burning Man several times.  He chatted me up gave me two beers for free and around one am I called it a night and made my way back to my tent.
Day 30 – Slept great that night in Lithuania I think from having no sleep the night before.  I was actually going to stay another night on the island but the drive to see and do more is always on the back of mind especially considering I have wheels to keep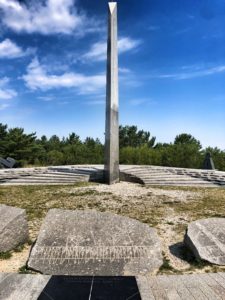 doing just that.  I was told of two things I needed to do not he island before I leave.  One was to visit this large sundial near the Russian border (Russia owns a tiny piece of coastal land between Lithuania and Poland ).  First stop made my way to the the western part of the island before hitting Russia to these sand dunes with amazing view back to main land and a large sundial with more pagan stuff all around it.  After enjoying the views I made my way back the
opposite direction to this mountain called witches hill.  The hill once had a bunch of spiritual ceremonies on it.  So there was a bunch of tree carvings through out the woods.  The walk was so nice and so many bad ass pieces through it.  After about a hour got back on the bike and thought fuck it I am going to keep moving north to Latvia.  Not far from the Latvia border I get pulled over for speeding.  My gps said 90kph but supposedly it was 70 and they got me going 114.  The cop pretty much said do not pay it.  He even asked when I am leaving I said in 2 days he said okay well if you pay it today you loose your license right away for 6 months so maybe wait.  I was like okay yeah duh I will never pay this ha.  After that ordeal I Ate my first Lithuania food of the trip at this amusement park type of place not far from the border of Latvia and continued on north to the city of Liepaja.  On my camping app suggested there was forts and a prison all near by so I found camp for the night on top of this cliff pretty much that over looked this little beach on the Baltic Sea.  After spotting my place out I went back to town grabbed one beer and stopped at this little wake board park and hang out for a bit to kill time since the sun does not set till 1030pm.  Finally got back to the place I picked out for the night and realized there was a fire pit already there with a shit load of wood already set aside.  This was perfect laid my blanket out near the cliff and caught the last hour or 2 of sun before starting my fire.  Got everything set up the fire kicking and drank my one beer for the night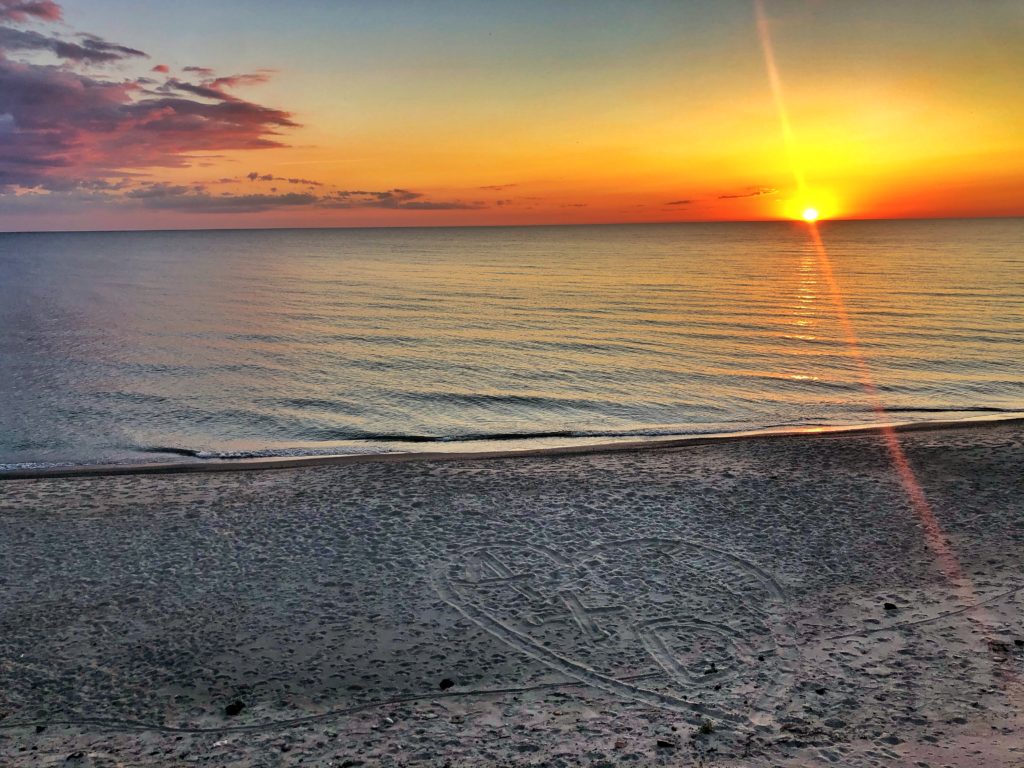 Day 31 – Heading back into the city today but first going to check out these forts and the prison.  The prison was a old ussr military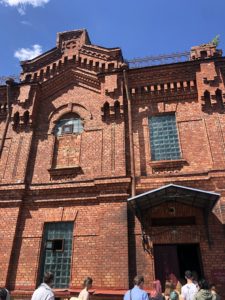 prison.  The building itself was just built and actually meant to be a hospital but never was
finished so the soviets plowed on in and they took it over and converted it to a prison.  Reason I tell you that cause it def didn't feel like a prison at all on the inside. O an d the story of it being haunted isn't real relevant either it was when the germans took the prison they killed a man there.  Well his wife was on the way to the prison in hopes to save him found out he was killed the day before she killed her self.  So afterwards head over to the ruins of two forts.  The famous ones are on the Baltic Sea coast which come to find out was pretty much walking distance from where I camped the night before.  Next one I guess was of importance cause the commander of the Latvia military at the time attacked that fort and took it over from the ussr.  After my little history lesson made the drive into the city of Riga.  Got settled into my hotel crank the ac and relaxed a bit before going into the old town to explore and grab some dinner.  Did some walking around took photos of buildings and just decided to call it a night.
Day 32 – Woke up early to do some exploring around the city.  I only booked the hotel for that one night so I got a late check out
till 3 and figure if I want to stay ill be back by 3 if not I will just leave.  Walked around to a few museums check out the castle (which was lame) and decided well not really much shit to do in the city anyways just another typical city so I'm going to leave.  Got the bike packed up and was going to make my way to a airplane museum but was told by the front desk that is closed.  They suggest I go to the car museum so that was something different last one I was at was in Andorra a year ago there not in every city.  So I made the 20 min drive out of the city to check it out.  While I was locking up my helmet on the bikes frame two guys walked around the bike and saw my license plate.  He asks are you really from California.  I told him yeah explained my ride around the world.  They inform me they two are riding around right now.  One guy was from
norway up in the north cape (for those that dont know north cape is the arctic circle and the most northern city in the world) the other guy was from Finland.  They both were traveling around the baltic countries for 3 weeks as well.  I didn't find out how they actually knew each other but we went into the museum together.  The museum was insanely clean didn't have a really huge collection but it was nice and well laid out.  While touring the museum we kept on hearing cars racing near by we asked where is that they said you can view the track from our cafe.  After we were done with the museum we had a beer and watched a
two races together.  I was still undecided if I stay in the city or not but I mentioned to them I was probably going to continue my way back south to Belarus when we parted ways.  They made there way back into the city and I made my way to my next stop the holocaust memorial park.  It was a beautiful wide open place with these huge statues.  I made the nice stroll around the outside and took some pictures before i decide it was time to make my way to the border of Belarus to find a place to camp for the night.  I once again found a lake that look inviting on the map so I aimed for that.  When I rolled up it was busy cars were everywhere.  I didn't understand then I realized it was the weekend so I ended up finding a nice little opening but near the woods of the lake to set up shop. The only issue I saw was I was in the center of the wishbone of two railroad tracks.  Being it was sat night I was hoping no trains were coming by.  I got my fire kicking and called it a night.
Social Share