The Return to PERSIA
May 11th – woke up in UAE I am heading to the Dubai airport for a short flight over to Bandar Abbas, Iran.  I have a short one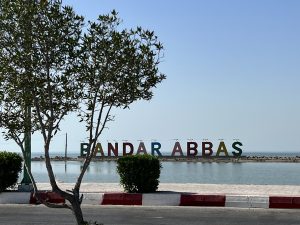 hour flight and finally after 6yrs I will be back in Iran.  I land around 1:30pm in Iran they do the normal paper work that I remember from last time since I am a USA citizen.  Afterwards I meet with my guid to take me to my hotel.  I get checked in an relax for a bit before he asks if I would like to go into the town for some dinner and walk around.  Of course I never been to this city so I would like that.  Now this is a port town so if anyone that has traveled to any port cities there usually a little more grungier then other parts for some reason.. It is usually the case with bordering cities as well.  This does not bother me one bit in fact I prefer the more rawness and local feel.  We grab some photos of the sunset before going to a restaurant and since we are on the ocean might as well eat some fresh fish.  After dinner got back to the hotel for the night.
May 12 – today I get a message from another rider who is on the Friday ferry from Dubai to Iran on instagram. He gives me his contact info and says to message him.  I give him a text and come to find out he went to the port today to drop off his bike but was told the ferry will not leave Friday since the waters are still rough and Now there looking at Sunday.  Which is honestly fine for me cause im heading 5hrs away to an island for the next 2 days so I was not going to pick up my motorcycle till Sunday anyways.  I head down for the free breakfast then I remembered I needed to go the immigration police station this morning to get fingered printed. ( don't be like that's sketchy because the stupid ass usa does that same shit in fact does it to there own citizens at the airport) end rant hahah.. Anyways go to the police station and welcomed by all they keep apologizing for the inconvenience to me.  I tell them its no issues at all and told them just what I said.  "I get fingered printed at the airport in my own country". They were shocked to hear such a thing and laughed.  The officer then took me to meet the chief or head honcho of the station he welcome me to Iran and said this is the last time you will have to deal with us the police.  He welcomed me into the country and mentioned I am free to travel as I please and enjoy there country and we all welcome you a safe an happy journey.  They went on to say I hope you view me as Iranian human and not as a police officer this is just our job and we all need jobs.  I said I truly appreciate everything from you guys I have not the slightest concern here.  I said my good byes and now I have a driver to drive me 5hrs west to the island of kish.  Now when I get to the ferry port to take me to kish I am informed the ferry is not going because the sea is too rough.  Now this god damn rough sea thing has been creating issues haha.  Anyways grab a hotel in the port city of Bandar Lengeh which is actually the original port I was supposed to come in to before I realize it was wrong.  I Grab dinner in the city caught another sunset before calling it a night.'
May 13 – okay woke up at 5am to catch the first ferry out to kish it is a hour drive to the ferry from bandar lengeh.  We are on the
road by 6 get there at 7.  The boat was just loaded so I am rushed up to the dock and finally on the ferry over to the island of Kish. It was about a 2hr ferry ride over super slow but relaxing ride to the island.  Once we arrived had to go through what look like tsa and of course since I have a usa passport they just wanted to make a copy of my visa.  Afterwards got in a taxi and to my hotel I go.  Now the drive over there seems like your in a different country since the piece of shit United States has all these bans on this poor country they definitely are affected.  Yet this island there is fords hummers Chevys everything here.  The buildings all seem to be new and I counted 12 new high rises going up on just my drive to the hotel.  I am not sure how big this island is but you can definitely drive the circumference of it in maybe in 2 at
max 3 hrs.  Hotel is simple but nice I get checked in and then head to the concierge desk to book some activities.  They had a tour of the island which left tonight so I decided to do that and I also booked a scuba dive for tomorrow.  Afterwards I walked to the beach which was only two blocks away to grab some lunch and just stroll on the beautiful beach.  After lunch and relaxing on the beach I made my way back to the hotel I passed this sign that look like some sort of concert.  When I got back to the hotel I asked the concierge lady about a concert tonight.  She said there is one and its right across the street at a nearby hotel.  Now for those that know me know I love fucking music and most of all concerts so of course even though I was not going to know a single word I was definitely going to it.   Now time was ticking I needed to shower and change since it was plenty hot out.  In no time it was 530 the bus was here and I boarded it for a
cruise around the island.  First stop was at some small village in the old town of the island to show you how they use to live before it go to where it was today.  Next we visited some tree that was really old but fuck I forget what I was told on how old the damn thing was.  Its a tree though there all freaking old I thought ha.  Next we visited this crashed ship.  It was a greek ship that crashed think they said 70yrs ago since back then they didn't really have the technology they do now and also there was no light tower on this island.  It was insanely windy out during this time I couldn't even keep my hat on my head.  Next we went to a bazaar (which meals mall). They really did not have much to offer but I realized why we stopped there because the tour guide was taking photos of everyone at the tree and boat and when we got to the mall it was nice and cool from the ac and she was showing an selling the photos she took.  I thought the tour was over honestly but then we actually had one more stop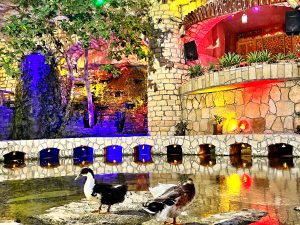 and this underground city.  I do remember how old this was cause I took a photo of the sign it is 5000yrs old and man was it a beautiful down there.  A Iranian who now lives in Germany came and restored the underground city on his own dime.  They had 3 restaurants in there that are probably special to eat at but I was on a tour and the bus was leaving.  They then dropped us off in the center of the city at another mall which was only a stone throw from my hotel.  I went back to my hotel to relax for a few hours before the concert. Around 1130pm I made my way across to the other hotel for this concert and Yes the show started at midnight.  Well kind of that is we were let in at midnight then we sat in the chairs for another 30ish minutes before the show started.  They had a intro video of how this musical theater was built which was really well done.  Then after that the musician who was performing I am guessing has a new album coming out because they did three music videos that pretty much told one story. The videos were really well done and the sound system was nice and loud but sound really clear.  Soon after the videos ended the artist came out.  His name is Ashvan and the stage performance was a proper bad ass concert.  The show went on till almost 230am and I must say I am a Ashvan fan even though I have no idea what the fuck he is saying.
May 14 –  Getting to go diving. If you read any of my shit from last year you know I do have a diving license but last year was the
first time I dove in probably 8-9yrs.  Now this one only been half a year from last years dive but I still feel nervous.  Its a intro dive so its all beginners unlike last years so I feel confident and fine but anxious I guess.   We got out to a Corel ledge maybe about 2-300 ft from the coast but cause the water and winds been so strong this does not help with clarity in the ocean.  Needless to say it was hard to see and not much action going on down in the sea.  Think we were only down for 20mins and we went up.  To me it was super short but to all the others they never even dived so they were happy.  IT only cost 15$ so at the same time I didn't really care all that much it was just something to do.  Afterwards walk the coast for a good bit grabbed a bit to eat at a fried chicken place and made my way back to the hotel.  I wanted to go back to the greek ship to catch the sunset so had about 2hrs to kill int he hotel after my chicken.  Finally I was in a taxi around 7pm sunset was at 730 so had plenty of time to get to the ship.  It was about a ten min drive I posted up on some steps and did a time lapse of the sun setting.  While I was there a Iranian started talking to me he was a guide an was with a Russian tourist.  After the sunset they. Invited me for tea there at the sea.  Was about to say our goodbyes but they then invited me to dinners.  Of Course I got nothing going on so I took them up on the offer.  We went to some seafood restaurant on the beach not far from the hotel.  After dinner started walking back towards our hotels they split off to there's and I kept walking towards mine.
May 15 – Okay Bernard (my bike) should be on its way to me today hopefully.  Got up early today to make sure I get on the ferry
with no issues due to weather.  I arrived at 7am but unfortunately that ferry was full so I had to wait to the next one which was at 830am.  Finally boarded the boat and was on my way back to the mainland.  Got to the car and was on my way making the 5hr drive back to Bandar Abbas.  During this time I get a text from a noel the rider that informed the bike was not leaving Friday he stated that the ferry is not big and that my bike is definitely not on the boat.  It was his bike and 4 other riders from Qatar.  I was freaking shit so I message the shipping company and complained.  Now this is at 1pm the boat was to leave at 10am.  The guy from the shipping company said dont worry it is loaded I then relayed that message to Noel and he again said mate your bike is not on this boat there is no room.  Now I am pissed cause my bike
was dropped off and paid for even earlier then the rest of the guys.  I am told once again my bike is on dont worry around the same time Noel says a bike just zip up the docks im sure its yours but the gate way to the boat is already pulled up so hopefully they get it on.  Now I am just hoping for the best at this point and on my way to the city one way or another.   I get checked into my hotel and then I get relayed to the shipping company over here in Iran an he said yes 6 bikes were loaded he informed me to come to his office around 9 the boat will arrive around ten.  I show up at his office some small talk and then around 930 he drives me to the port so I can unload my bike personally instead of having one of the dock workers do it.  Boat shows up fairly on time and then drive me around the port to avoid immigration to grab my bike off of the boat.  It was pretty obvious my bike was the last thing to be loaded on as the other guys bikes were neatly in the corner and my bike is sitting directly in front of the door so no other bikes can get past mine.  I grab Bernard off of the boat and I am showed to just wait and park it on the side.  I finally get to meet Noel he says I owe him mate my bike was not on that boat which I definitely do.  I instantly take a liking to him a dude traveling solo from Ireland who now lives in UAE with his wife.  Noels wife is a school teacher there which allows him to be a stay at home dad and travel on his motorcycle. This dude fucking figure it out right mad props to him.  Now all the guys got to go through immigration to get there stamp and what not while I wait outside.  Afterwards we are told the bikes will not leave the port tonight due to customs so we have to park them in a warehouse and tomorrow come back to deal with all that shit.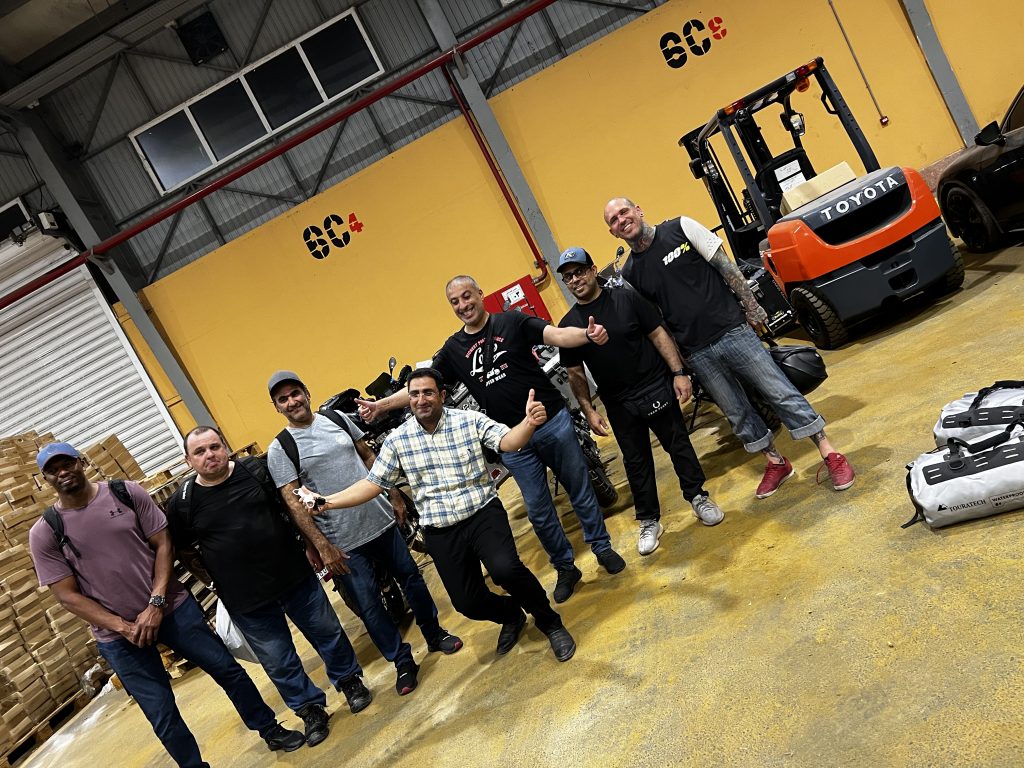 May 16 – what a day this would turn into.  We were told to be at the port at 930am which is when I arrived of course I am the first
person there.  While I wait I pass out and Noel shows up.  We start bullshitting this dude had a bad ass life so far he lived on a boat for 12 years in Micronesia.  They traveled from Canada to Hawaii over. His wife got a job as a teacher and they had a little girl during this time on the boat.  He is a typical irishmen with jokes and good laughs.  Finally the other 4 dudes show up think around 11 apparently they filled out a bit of paper work last night thats why they came later.  Now when I say a bit of paper work it was literally one piece of paper.  Also let me mention we are paying this agent to do all the work for us and he had all the info that he could of had this filled out.  Either way it seemed like maybe we could get our bikes soon but surely we were wrong.  I think one pm came and still nothing but was asked to come over to this other building but again for I have no reason why.  I did nothing but stand there while paper work was filled out and I just went back to the main building.  Around three Noel and the rest of the guys and I go upstairs to the little restaurant they have to grab some lunch. 3$ lunch and we're again back to waiting.  Around 5 I think it was we move into another building only to just sit longer.  Around 6pm ten hours in this building we are back sitting in the where we started the original building.  Think it was 7 when we were then moved to where
our bikes were sitting.  We got on them moved them a few feet before told to stop again.  Maybe 20 mins later we are out the building to another stop sit there for a few minutes while they check each vin number on the bike.  Now we move right before the entrance exit gate only told to park again.  While we sit there a truck driver pulls up and offers me a full ass cantaloupe I of course accept his offer so I slice it up with my knife and share it will all the boys and damn was that fucking thing good.  We are
now told around dark that the reason we are waiting here cause it can't be finalized since the main guy went home so we are waiting for him to come back to finish up the paper work.  So again we sat for probably another two hrs it was dark I been here for 13hrs now.  When we finally left the damn port it was 14hrs total and the one guy from Qatar offered to take us all out for dinner.  So all 6 of us and the customs  agent who has been running around mad getting all this settled for us were going to have a celebration dinner. When we arrived at the restaurant it was a beautiful place on the ocean.  Noel and I just agreed we eat whatever they order and what they order was way to much.  We literally had 5 different types of drinks 2 appetizers for each person soup 3 different types of salads and 3 main course meals.  I honestly didn't think he actually pay for our food I thought it was just a suggestion but out of nowhere they kinda of said there good byes with all this food on the table we then have them box it all up and give it to the the customs agent and asked about the tab.  Thats when we were informed the one guy bought everything.  I was truly bummed I didn't get to say a proper thank you when they left now it was just a good bye and hope to see them in morning and on the road as they were heading the same direction I was the next day.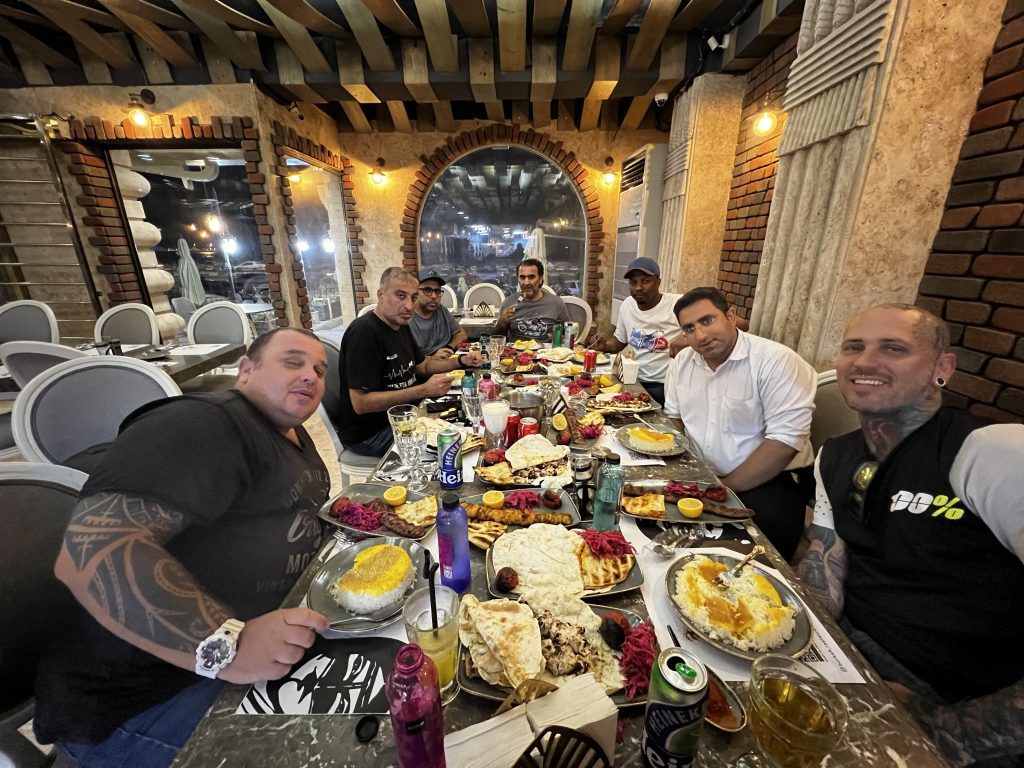 May 17 – finally its time to get to fucking riding my motorcycle.  At night I stayed in the same hotel as Noel we didn't get to sleep
till one am. Noel was staying another night in Bandar Abbas but I was hitting the road north.  First stop was Persepolis which is probably the most iconic place in Iran.  Now I have been here before but I figure its been 6yrs and now im on my motorcycle might as well go to one of the most famous places again.  It was a hot boring ride to the nearby city of Shiraz then the roads got a little more interesting and even cooled down a lot after 4.  I arrived at my hotel which was an amazing little cabin only a few minutes from Persepolis.  I was able to pull my bike right in front of the building and as I started to unload some clothing the guy across the way came over and offered me tea.  I enjoyed some tea and he pointed out the cabin in front of me has two motorcycle riders from Australia.  They were no where to be seen but the bikes were sitting out front.  I changed some clothes and then cruised down to a beautiful restaurant not for away for some dinner.  I sat on the traditional style table for the first time to enjoy my meal.  After dinner it got awful quite and there was really no where to walk to so called it a early night.
May 18 – woke up fairly early grab the free foods and made my up to Persepolis to take a quick little walk through before going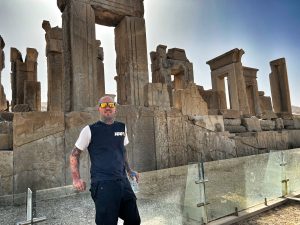 back and hitting the road.  Place obviously remained the same as I remember so I didn't go and see everything like I did the first time.  Took some little memory photos for about a hour or so and hop on my bike back to the hotel.  Packed up all my clothes and electronics before saying my good byes and hitting the road again. Before completely leaving I was told about going to the tomb of Cyprus the Great and honestly I have no clue who the fuck that is.  I hate history I just go to view the stuff read some info take it with a grain of salt and move on. Well the tomb was nothing special I didn't think so lasted maybe 20 mins there before making my out.  Now the next city I have no clue what I am heading to or even doing there but driving an
average of 4-5hrs a day is the plan till I hit Armenia.  Next city or town stop was in the old town of Arbarkuh.  I was staying at a eco lodge and man was this place fucking cool.  (Well cool to me that is haha). It was made in the old town so it was built out of mud and I guess straw is the other blend in the walls.  I really enjoyed the place everything about the place was super peaceful.  I was given some places to go to so after lunch I carried on my way.  When I entered the area I saw this big ass tree so I was told to stop there.  Now this damn tree is a cypress tree and has been predicted to be over 4000 years old.. (Yes thats 4 thousand years old) Now normally I would just be like ok cool but something about this thing was just mesmerizing to me I have no idea why.  Well once I was out of my trance I Stop at the mosque which was clearly the biggest building in the town and then went to an old antique house.  I been to a few of these in the past but this place was legit mansion.  I forget the time frame of it but it was massive and just cramp right in the mist of the town.  Only the main area was remodeled it looked like one the areas was damaged or maybe never finished and the two other areas looked like there were in the works of being renovated.  This pretty much filled my day so I made my way back to the hotel for a bit and then it finally cooled down so I took a stroll into town to get some ice cream before retiring the night.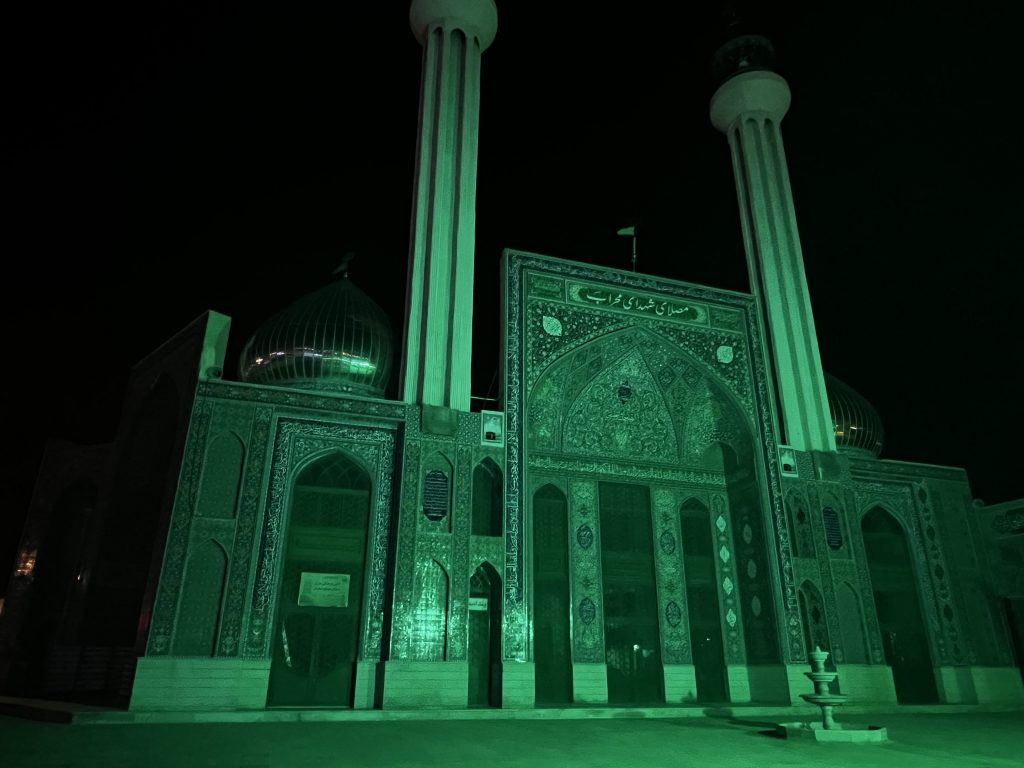 May 19 – heading into the desert.  Yes you think living in California you wouldn't care about the desert but I do like them and enjoy going to them.  There definitely not as special as the sea but there are pretty incredible.  I get up early for the free food and start packing up the bike and making my way further north.  Next stop was outside the city of Ishfahan which I have visited the last time I was here so I didn't have interest in going back.  (But honestly I should have cause that was my favorite city the last
time I was here). Stayed in this little guest house which the people were so damn nice.  I ended up parking my bike in the staff workers garage which was down the street.  He offered to take me on a tour that only cost 10$ and involved my whole evening.  I of course agreed cause I had no plans.  I went back to the house and relaxed for a bit till 3pm when he came back and grabbed me.  Our first stop was to this little reservoir which had this fire temple from again some years I dont remember.  Place was pretty nice with a super clear pond as kids were playing in a mosque an these the temples.  One was a fire temple and the other was where they held the ceremonies.  Seemed a little cultish hahaha.  Afterwards we made this odd stop at what look like a farm building.  When I walked in I was introduced to this man who pulled out this gigantic bull from the one opening in the corner.  The bull was then leg to this rope where he put on a harness.  The pull walks downwards down this slope as it pulls a bucket of water up from a wishing well.  The water once it reached the top and the bull reaches his end water is automatically dump which leads into the crops behind the wall.  So in other words this bull gets buckets of water from earth to help water the plants for food for us humans.  It was pretty crazy yet really interesting the method.  O also the bull
did not move one inch unless the man aka the owner of the bull sung.   Yeah no yelling no walking it not even a single hand was placed on this bull.  He just sang to the bull and the bull moved downwards.  We eventually left that little show and made our way further from town to salt flats.  This was a lake that only ten years ago was 30km wide and 50km long and now has dried up.  The guide even mentioned the water was 5-8meters deeps (15-24ft)  It truly was freaking sad to see cause now all it is is a salt bed with some pools of crystal clear water.  Just crazy for me to picture only ten years ago an now nothing just unbelievable. Guess global warming isn't real 🙁     It was crazy how well he knew the area cause I was freaking lost out there but eventually we made our way back to the road and headed back towards town.  Our next stop was the sand dunes.  Of course I done this several freaking times as well but hey why not one more time – Which is sand boarding.  Every time I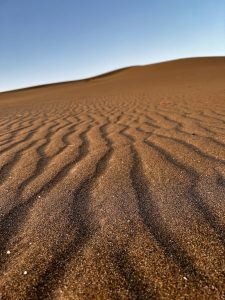 done this before its been some stupid piece of wood and some straps never a real board.  That was not the case today they had an actual snowboard so I was curious to see how welll this actually does work with a right board.  Yet still had a issue this board didn't have no straps or anything on it so I was just standing on top of the board going down a hill.  I started off small and went really well in the sand and I stayed on good so had to go higher.  Now this dune was pretty damn steep so I didn't go to the top because at the bottom of the dune it was not just sand it was a hard rock base so I was not trying to eat shit on that.  I went a little further then half way and I got some decent speed on me I could see this actually being really fun if hopefully next time there is a proper board and also some sort of straps to put my feet in.  Now the owner of the guest house is actually building another guest house out here in the desert.  The structure is all complete it just has some fine tuning with the interiors electric and plumbing.  Its said to open up in 4 months which im sure this place will do very well cause it was beautifully done and in such a peaceful amazing setting.  I was then asked if I like to stick around for sunset it was only a hour away so I said sure and was asked if I wanted tea.  Of course I didn't turn down the offer so he made tea and we hiked back up the steep dune (but on the not so steep side lol) to drink tea and wait for the sun to set.  I was surprised at how good the sunset was cause it was a little hazy from the wind blowing the sand all around.  Eventually got back towards the hotel got food and called it a night.
May 21 – Not sure why I went back to the city of Kashan since I had been there before and although the main sites are cool I did
not really need to go back.  Now not to many places were really all that busy but this city was madness.  People were everywhere with lines to get in an out of the sites.  I did get out and see the famous garden where someone important died went to a few of the houses which again were at before. Sadly felt like the day was kinda waste since it was nothing new to me. So here are a few photos from the sites since most of you reading this probably have no idea what I am talking about haha.
May 22 – Moving along and on my further north to Armenia.  Next stop was a short easy drive think was only 3hrs.  It was the city
of Hamadan.  The hotel was actually about a hour further north of the city at this cave.  They literally had a hotel 200ft to the entrance of the cave something that reminded me of hotel planning for Disney land.  I thought it was pretty fun for some odd reason.  The hotel was simple an nice they had like a little walk leading up to the cave that involved some restaurants some amusement park ride for like babies and of course souvenirs.  Once entered they give you a life jack which was a bit rare to
me.  I mean I have been in caves but they also gave you a raft not just a life vest.  Of course I have no idea what I am in for since I never google shit.  Once I got down into the cave it was paddle boats there.  The main guide needed a second person to help paddle and ask if I would be interested.  I of course said yes cause hell I do not even remember that last time I used a paddle boat.  Now it was not just me and this guy paddle my way through the cave we literally had 4 boats tied to the rear of us with 4 rows in each of the boats (so each boat could carry 8 people or guess more if there was children).  Anyways this was not easy at all and I had a jacket on cause they told me it was cold in the cave.  We paddled for about 15-20mins I say an then arrived at a dock.  Now my ass is sweating good lol.  Now we did a walk through the cave which probably took about another 30mins.  We then again arrived to water and the boat guid was sitting there.  He asked if I still want to paddle I'm like fuck it let me get some exercise in so I man up.  It was a good 15-20 mins back and felt like it was harder.  Maybe cause I just strolled up an down stairs for 30 mins prior to the other paddling experience.  After I got out of the cave it was around 6pm so I grabbed some dinner walked around a bit more bought some sweets to share with the family when I get back and called it a night.
May 23rd – next city was another city I was not aware of Called Takab.  Todays ride was the best of the whole trip.  All mountain
twisty and just beautiful scenery.  I had a eco hotel again so it was of course on the outskirts on a hill.  I was actually surprised of this place cause It was on top of this little village.  I say little like maybe 200 people live here and obviously did not have any real source of income.  My room had 4 beds for whatever reason but the main room was located in a building next door.  Once I arrived the worker cooked me up some amazing fish from the river near by.  The main room had views of one of the sights it was this volcano.  Truly one of the coolest views I ever had and in such a unique hotel.  Once I was done with the lunch made my way over to the volcano.
Parked the bike and started the climb to the top to look down inside.  As you walked up you knew it was a volcano cause all you could smell was sulfur and of course the closer you got the stronger it was.  After taking some photos from the top I made my way back down the hill to my bike.  There was a unesco world heritage site literally within viewing distance from where I was at the volcano.  Of course I made my way there next.  This was an old fort that I guess has been used through many different periods.  As I enter the
place you see this massive lake in the middle.  Again I had no idea what I am getting myself into I just came cause it was something to do.  On the little letter thingy it said it was 80-120meters deep.  ITs a spring they like to say but It seems its a volcano as well based on the rock formations around it.  Now this was place was in ruins which I actually like then to see things so perfectly put back together.  I strolled around the area for a bit then I made my way outside.  When I walked out I realized there was a pretty big hill /mtn and I bet if I could get to the edge it would be a pretty cool view down into this fort.  I asked the little cafe if I can ride up there of course I could they looked at me stupid why I would even ask.  Now it was time to keep this day more interesting and make my way up the mtn.  The ride was actually pretty normal a little offroad action but nothing crazy.  Once I got to that flat I realized I could get a little higher but would involve some pretty gnarly climbing.  In fact when I rode over to the hill it was so steep that I just leaned the bike against the hill to take some photos.  Afterwards the sun was starting to set unfortunately no good sunset and I just made my way back to my hotel. The staff worker made me some local dish which looked like slop but was pretty damn good.  I try to watch the f1 race but of course service sucked so no real luck.
May 24th – This was my last city stop in Iran the city of Tabriz.  This city I believe is the 3rd largest so I figure it was going to be
kinda of hectic.  I believe It was a 5hr drive from takab and when I arrived it was fairly cool.   I actually stopped just about half an hour from the city in this town that is built like Cappadocia Turkey.  This fuckin place was like a damn wind tunnel it was the worst wind I think I experience in a long long time.  In other words it didn't make for a good time to just hang out.  Now it is a bunch of dwellings in the rocks that unlike Cappadocia people still actually live in them.  It was more a place to just experience cause I will be damned if you can get photo since its all up in the mtns.  I was there only for about a hour before I made my way into the actual city of Tabriz.   Got into the city believe around 5 or 6pm an got checked in.  I relaxed for a bit then made my out for some food.  I stop at this park which was very nice and relaxing.  Afterwards ate another traditional food.  I am not going to lie this was was pretty boring as fuck.  It was literally just a damn potato and a egg smashed into the bread.  Im like what the fuck how can u call this local food when this is what any drunk or high teenager eats in the usa.  Anyways yeah it sucked lol.  Afterwards just made my way back to my hotel for the night as I will have a full day tomorrow to actually site see.
May 25th – City tour first stop museum and a old ass mosque.  The museum was just a local area museum so it included a lot of
artifacts found around town.  To me nothing all that crazy besides some knifes.   Next was a mosque that had been destroyed to a earthquake but was rebuilt.  Okay I get why this is rebuilt cause they actually reused the thing.  There not just rebuilding it so a bunch of tourist can come an take photos. This is a mosque used as a mosque they reconstructed it so the locals can still use it to pray.  Afterwards went to this new monument that is being built.  It was to look like an open book and a famous poet tomb is actually buried there.  Next to that monument is the statue gallery.  I knew nothing of this place of course but at the local museum they suggest it and fuck I am
so glad they did.  This place was amazing.  The sculptures all have a very direct message to this world.  Which im truly curious when each was created cause a lot of it is relevant to day and the past few years.  I was actually a bit surprised some of this art was even allowed.  When I entered the actual artist himself was there to welcome me.  He said I was the first foreigner ever to enter his museum (he only had it only open for 3 months lol) but I did feel special cause that place is definitely the type of art I myself truly like.  Afterwards made my way to the bizarre it to is a unesco site and was told I had to try the local dish there.  Now I usually dont do the bizarre cause once you seen one you seen them all but the local dish thing had me sold.  Hopefully it will be better then that bullshit egg an potato thing and man was it.  This thing involved a little elbow grease to get to where you actually ate it.  So first you rip off pieces of there local bread (which is like naan bread) then you pour the juices from the item without letting any of the items come out.  You just eat the bread an juices.  Next you dumb out the ingredients which involved chic peas tomato lamb and I guess a slice of fat.  Then you got to mash it up with this mallet thingy till its like a puree add some sauce on top and bam this was fucking amazing.  Once I was done eating it started to rain so I made my way back to my hotel for a bit.  I actually did not do much just relaxed and then decided fuck it I am going to eat the same thing again fro dinner might as well get it while I can.  That exactly what I did got the dish yet again for dinner before calling it a night and prepare to head to Armenia tomorrow.   
Social Share