May 2 – I drove Adam and I back to Dubai but before we get my bike we were picking up Adams bike that he rented.  A lot of the shops were closed because it is the Muslim holiday EID which follows ramadan so we only had one option to use.  He was able to get a 800 no problem and now he was on the road for the first time in a foreign country on an unfamiliar bike.  We got back to the hotel we stayed at previously where my motorcycle was sitting for the past few days.  Unloaded the rental car and loaded the bikes up.  They charged more for Adam to rent the panniers so we just had to use the tie down straps I had to buckle the his bag down.  First stop was to grab some grub we stopped at a Thai restaurant right up the street then it was some gas since my bike was low.  Finally we were on the road to Oman.  Now we did not even know if Adam bike was going to be allowed in Oman from what the
rental place said but he said you can always try.  Guess we needed some form or something since he is not the actual owner of the bike.  It was a direct 2hr drive to the border.  We got out of the UAE very simple then to Oman.  First they asked if we had insurance on the bike I told them no we will need to purchase that.  He told us where to go to get the insurance.  For 30$ each we had insurance on the bikes.  Then to immigration when we arrived he said you need visa which I did not know if I did or not but I said yeah we need visa he said just drive through go inside.  We go inside and stamp stamp we are in the country of Oman.  Originally I wanted to go to this city 9hrs further away but it was not 6pm so that was not very ideal.  I mentioned to Adam we will just drive to the next major city and grab a room there for the night.  After3hrs we arrived in the city of Ibri and spotted a hotel attached to a mall.  I went in to ask how much the room was they said 60$ and I handed over the passports and we called it a night.
May 3 – Last night before sleep I realized the distance we need to travel for only a short amount of days was not very ideal.  Adam needed to be back in Dubai fri cause he flew out sat.  If we went to the city I was planning he would then have to have a long ass drive back to Dubai by himself so I adjusted the schedule up.  Today we were going to hit a castle and a fort and then do some off road riding up to this
mtn that is 9000ft above sea level and in time allows us to go to a Wadi.  Oman is known for these wadi from photos it usually this picturesque swimming hole in ravine surrounded by palm trees.   Like everything on the internet got to take it with a grain of salt though.  Anyways we made the stop at the castle near by and since it is still the holiday week of course it was closed.  We just continued on to the fort which was open.  Walked inside grabbed some photos got chased around by some bats and
sweated our asses off.  My bike read 108 degrees at this stop so the wadi or just swimming hole sounded good.   We head up into the mtns and saw a sign for a wadi which was an off road trail to the right.  Adam never ridden this type of motorcycle and in fact he never rode a dirt bike so he just got tossed into the mix lol.  He did find we got as close as we could and walked the rest of the way.  This place was to have a waterfall as I was scaling the rocks I could see the waterfall was dry so was not looking like its in our favor.  Adam stayed back as I climb further up.  There was water but sadly it was like 3ft deep and did not look all that interesting. 
Adam said fuck it lets go to the next which I agreed with.  Got back on our bikes and made our way up the top of the mtn.  The road up was nice curved roads once we got to the top it turned to dirt.  I asked Adam if he was okay with it.  He gave me the thumbs up so  we started to head down the mtn into the ravine.  Honestly I think it was only like 10 miles to the wadi area but since Adam was not experienced at all I think it took us like 2hrs haha.  He was safe and so was I so whatever time didn't matter.  Now it was damn hot out and Adam was sweating it out big time.  I told him it says its a 45 min walk/bouldering over these rocks to get to this spot are you down.  He mentioned he was not feeling so hot and truly didn't know if he could do it.  It was 3pm at this point and I mentioned well its getting late it gets dark at 7 so we are going to go all in or best to leave now cause you got to drive back on this dirt in the dark.  Now this is where he thought it was just a road I took and thought the road out was paved but no no I had to inform him that was definitely not the case lol.  In other words we were definitely leaving at this point to make sure were out before dark.  We did exit a different way then we entered I told Adam I would follow him because not he way in I would just speed off and enjoy the ride and then sit an wait for him.  This way maybe I could follow him and give him some help on riding off road.  After seeing him slide all over the place going down hill I told him to let the bike slow you down you dont need to be holding your clutch in.  Those words did not register cause shortly later I see him almost fly off the side of the cliff.  Luckily there was a bit of a bank so he just crashed before
taking the death launch.  Not going to lie I was a bit scared for him but when people say they can ride I feel like paved or dirt its a standard its not like he is riding motocross to super bike riding.  If it was paved he should of been doing the same thing it was not that extreme except for the fact that there is no guard rails.  Anyways I helped him get the bike back up and told him again dude your grabbing the clutch I can tell by how fast your going.  We have the same type of bike there is no reason you should be going that fast.  I followed him some more and again he almost went over the cliff this time he saved himself.  I told him I would lead and I will try to go slow and mentioned again do not touch your clutch at all just let your bike slow you down and use your breaks.  After I lead of course the road kinda mellow out so we dont know if he changed or not.  It was much easier of a road out though then coming in so we were on some straight flat dirt roads for awhile before we got onto some amazing paved windy roads through these beautiful mtns.  We got to our hotel again at dark overall it was a 12hr day so probably road for ten.  I was hungry and wanted food.   After walked around the town talked a bit about todays events laughed and called it a night.   
May 4 – Today was going to be a super easy day of riding after yesterdays 12hr ordeal.  Plan was to hit up a castle and a fort again and these two wadi and a sinkhole in the ground.  All of which appeared to be on paved roads.  First stop castle again was freaking closed since the holiday is all week.  Next stop the fort.  When we arrived it was closed but while we were taking photos they must of heard us outside and open the doors to us.  It was a small fort so we were in an out in like 30mins.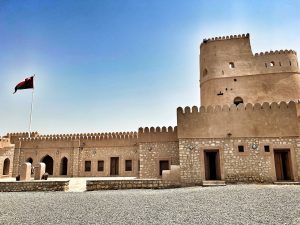 Since the drive was all fairly short I was trying to avoid the freeways by taking coastal village roads.  Which I was soon to learn is impossible here because the terrain is so mountainous here.   One minute its fine then boom a huge fucking rock/mtn is in front of us and we have to turn around an get on the freeway.   We did finally arrive at the first wadi.  It was nice but it was right under the freeway so it didn't have that sense of peace.  We stopped for a bit and moved onto the next one which was about 30min more north and the popular one in the area.   As we arrived instantly saw how popular it was with the parking lot a mad house. 
Thankfully being on bikes we wedge ourselves to the front and in the shade.  Soon we learned we would need to take a boat to the other side of the wadi and we would need to walk 45mins back in the ravine to the swimming holes.  So for 3$ each we took the boat to the other side and started the long walk back.  The beginning was mellow just a gravel trail then it turned to the bouldering like yeseterday.  Not sure how long it took us to get back there but god damn we were home an sweaty and that water felt incredible.  There was three swimming holes I don't know which one we ended up staying posted at but I asked Adam if he wants to go to the end or if he is chill.  He was content just chilling and enjoying this spot as I was.  There was a probably a 20ft cliff jump right there but there was a ledge about 2-3 ft higher literally a ft back that
no one was jumping off so I said fuck it im going to hit that one.  I attempted to scale the slippery ass rock 2x failing.  On the third attempt I manage to get a good enough grip to get up.  Now once I got to the top my ass was out of breath. I sat up there for a bit as I was sitting on the top one another guy came up and was going to jump.  He bailed out two times I asked him if I should go first he said yeah so I launched off and shortly later he followed.  That little jump made my day so I was ready to leave whenever now lol.  At this point we had to be in the pools though for a good hour hour an half and still have the walk back.  I guess it was going to be around 4 by the time we got back and they said the boat last trip was at 430.  Adam agreed so we swam back an then started the trek back to the boat.  We exit a different way along these irrigation canals which was so much fucking easier.  When we got to the bike it was 330 but I did want to stop at the sinkhole yet that was only 30mins more north on the way to our destination.  Hopped on the bike and made our way.  This place was even more packed but most people here were picnicking and or watching the kids jump off the side of the
cliff.   The beach area to get into the water was lined with people so we both decided we didn't have to get in.  Hung out for a few minutes then decided to head towards our hotel which was the capital city of Oman the city of Muscat.   We only had a hour n half ride which sadly again was god damn freeway cause we literally could not go the coast so boring as hell.  When we arrived at the hotel they unloaded our bags for us parked the bikes and got checked in.  I have access to the lounge and the manager said its happy hour right now which in the lounge that means free booze.  Adam and I didn't even go to the room we went straight to the lounge which also offers food.  We filled up the free food and booze and made it back to the room around 8.  The hotel had an indoor pool so we decided before we shower lets hit that up.  It was literally bath water but it was still refreshing from being in the sun on the ride into the city. After our pool we changed and decided to go downstairs for a beer or two to see how the scene is.  We were not really plan on going hard after our days in uae but also had to see how the bar outside was since we haven't been out at all in Oman.  It was weds night and during the eid holiday still so in other words it was a ghost town ha.  We had two beers and called it a night.
May 5 – today was a day sightseeing in muscat the capital of Oman.  We been doing fairly early mornings so we were not in a rush
to get out the door first thing in the morning hell when we woke up we didn't even have anything planned to visit.  Adam actually showed me a feature I never saw before on google maps called "attractions" and it list a bunch of shit nearby.  First stop we planned to hit up the military museum.  It was close to our hotel so it was a easy drive right down the street.  It was the original house of a leader back in the day that got expanded on turned it into a military post and now a museum.  Because of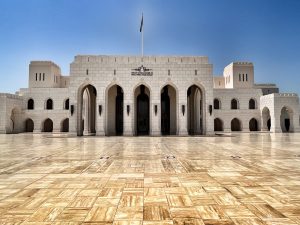 the history of the museum it looked like a fort or castle.  It was not very big but was interesting lesson on the wars in the country.  Afterwards we wanted to see if there was a tour of the opera house.  We drove past this thing yesterday and it looked incredible. Unfortunately it was closed but we did grab some photos outside and entered the mall attach to the opera house.   It is a kinda of mall that you expect to be attached to an opera house. Just a bunch of fancy ass shit.    After the opera house we made our way to the grand mosque of muscat.  Of course it has to be closed but this thing was pretty impressive with an amazing botanical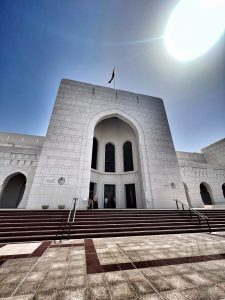 garden surrounding the place.  Now we planned to make a hour drive back to where our hotel was to go to the palace and National history museum.  On the drive there we went along the sea and it was a beautiful drive. Busy shops beaches amusement park (guess it be more of fair not amusement park. Just permanent). The square to where the museum was done beautifully as well.  Parked the bikes and headed in. The guy being the counter gave us both glasses of water subs it was hot and he must of saw it on our faces.  Once cooled off we walked in to look at some of the history of Oman.  It was probably around 5 when we left the museum so we made our way back to our hotel to take a dip in the pool and cool off.  The pool closed at 6 but the happy hour aka free drinks in the lounge started at 6.  We had to take up the free drinks before dinner.  Now the USA coast guard was staying at our hotel and we semi made friends with a few last night so when we got to the lounge it seem to have turned into our lounge.  Everyone was ordering double an triple vodka an whiskey since it was free and because the drinks were expensive.  In other words we were pre gaming. Happy hour closed at 8 and we had reservations at an authentic Omani restaurant back on the water where we were at earlier on the day.  It was only a 15 min drive. It was a nice restaurant with outdoor seating overlooking the ocean. Not sure what we got but honestly it didn't have much flavor    After dinner we decided to drive around and take more photos since the city was pretty lit up.  Eventually we got back to the hotel I think around 11 we were going to have one beer at the bar an call it a night.  When we got downstairs the guy from the museum who gave us the glasses of water was there. He invited us to his table as we drank our beer.  It was insanely loud so not much talking happened but found out the guy was also a tour guide for climbing. While we were finishing our beer all the coast guards came down. We ended up chatting it up with those guys so of course another beer came.
May 6 – Adam had to be up early cause he was riding back to Dubai solo and need to have the bike back by 4pm.  I had a ten hour drive south or that was the plan anyways.  Adam and I said our good byes and we went two separate directions   I got to a hotel about 6hrs away just around dark. I was planning on going to the ocean but found out my hotel was about 15 more mins to the sea.  I ended up just having a relax evening so I  grabbed food and updating my blog.  Adam arrived to Dubai in time and grab a hotel for the night near the airport.   
May 7 – Adam headed home and I moved further south towards the yemen border. I had another 6hr drive since I was going to
take the coast down instead of the highway.  The issue with the coast here in oman is that mtns pop up and you have to head inland. Which this was the case yet again. So I get to travel back on a long straight boring road in the desert for half of the trip.  I finally arrived at my hotel. It was right on the beach and only cost me 35$.  The front desk girl upgraded me to a superior room with a corner ocean view.  I got into my room around 4 so only had like 2 hrs of sunlight left.  Now It's been awhile since I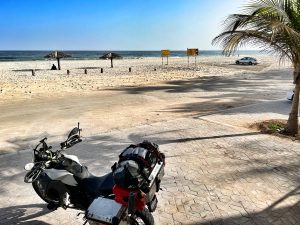 did laundry so I decided to do the classic scrub clothes in the sink and hang out on the balcony.  Afterwards grab a chair on the beach took a dip in the ocean and grab some sun before dark.   On my way back into the hotel I asked the front desk guy where I should eat. He suggested I go to this Lebanese  restaurant  in the the city center.  I went back up to my room cleaned up and made my way into the city for dinner.  Shortly after I order a gentle man from France finished up his dinner and began a conversation with me about my bike.  He was in town and then heading to Saudi Arabia afterwards.   He explained he has been traveling half the year for last 40yrs and was interested in my story.  Before he left We exchanged contact details.   After dinner I just cruised back to the hotel and called it a night.
May 8 – I got up around ten. Today was going to do some touristy stuff and take a dip in another wadi.  I was making my way to
this museum that was about the special tree in this region called the Frankincense. (I had to google to seee how that is even spelled). Of course this museum was closed.  I truly do not know why since the holiday has passed.  Anyways next stop was the another hole in the ground.  Think it said it was 70meters so 210 ft in the ground.  When I arrived I was the only person there so I made my walk back only to see just a outlook of this whole.  Which was pretty boring but off to the far right corner I see there was a path so I figured I would go explore.  It was probably about 30 min walk down to another plateau area which you could now stand on this platform and see straight to the bottom.  Shortly later as I try to explore further down a man came down.  He was from Ukraine but lives in UAE.  We chatted for a bit as his friends were still making there way down slowly.  I was told there were was one of the largest collection of bird living in this whole hole then any place in the world that It had its own biodiversity.  When his friends finally came down I made my way back up.  Now it was hot so next stop was the wadi and some waterfalls.  The first wadi was easy to find but it mentioned about some big
waterfall.  I try to ask around but no one seem to know where it was.  As I hung out and took photos of the little wadi the man selling fruit and water said I could jump in.  Now there is signs all around this place says not to but fuck it he gave me the thumbs up I am going in cause the water was just perfect.  I flop about in the water for a little while before sitting on a rock trying to dry off before hopping back on the bike.  Next stop was these out look near the Yemen border.  I had about a two hr drive from where I was towards that direction.  About 20-30 mins out I came up to a military stop.  They asked for my passport but of course I do not have the damn thing on me.  They said there is a war in Yemen you need a passport to pass this point.  I told them I am not crossing I just want to go to the outlook spot.  He looked like he was going to let me go smile an understanding until another car had to pull up and fuck that all up haha.  He turned me around and then them as well so now it was a hour back to my hotel near the city.  I got back around 5pm so I had about two hours of sun before it went down.  I grabbed a towel and head back to the beach.  After the sun went down of course it was food time again.  I asked the front desk man where he suggest me to go tonight.  He said Indian I said sure I like Indian so back into the city I went for dinner.  After dinner I wanted to stop and check out the grand mosque in town.  These things are so much better at night cause there all lit up.  I stop took some photos and just went back to the hotel for the night.
May 9 – Okay back story my bike situation out of Dubai to Iran got messed up by the agency in Iran.  I was to take a ferry with my
bike Thursday to a port called Bandar Lengeh.  I found out that port does NOT accept any vehicles what's so ever that I need to go to the port Bandar Abbass which left Friday.  Now I have the passenger ticket to Lengeh so I was going to still take the ferry Thursday and just pick my bike up at the other port when it arrives.  Today is Tuesday I get a message the ferry to Lengeh is pushed back to Friday which kinda fucks me since I have a preplanned and booked itinerary.  Now the option is to fly Wednesday and pick up my bike.  With all this confusing shit said I need to have my bike in Dubai weds morning at 9am and I'm 15hrs away.  I woke up at 5am and was on the road by 6am. The plan was to get to the city just not he other side of the UAE border mainly cause hotels are cheaper in Oman than in UAE.  It was a 10 an half hr drive but I knew I could beat that time considering it was only 700 some kilometers.  Now it was Off to the races at 6am.  I was doing amazing on time then of course I passed a gas station on the left hand side of the freeway where there was a medium.  Of course I could of gotten off the next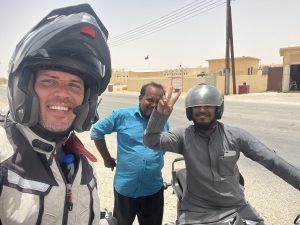 exit made a u turn and came back to it but I thought there has to be another one on the right hand side of the road.  Well boy was I wrong cause I ran out of gas in this small village thankfully.  I asked around for petro one guy comes to help and shows me back the opposite direction said I can just walk.  During this time a guy on a scooter rolls up says to hop on the back and we drive up to a little restaurant.  He pulls a jug out from the side of the building and low behold there is fuel in this thing and starts filling up a one liter bottle of water.  Now they said its 20km to the station and I truly have no idea if one liter is enough I try to pay the guy and of course he won't take money so now I have to ask for another liter.  I say my dearest of thanks take some photos with all that help and start going again hoping I do not run out of fuel again.  Some how I did make it to the station got filled up and continued towards the border.  I made it to the city I wanted to in 7 an half hours even with running out of gas.  There was a mall at the hotel I was planning on staying at so I went in to cool off cause it was fucking hot and get some food.  After I ate I looked at the time it was only 2pm so im like fuck it what's the point in staying here and doing nothing all night im going to get back on the bike and go to Dubai.  Thankfully I had enough points with Marriott that I actually got a free night at the hotel which help to convince me to definitely just do the drive.  The border crossing was simple and back in UAE and back to Dubai I go.  I got checked into my hotel went down to the pool to cool off and just relaxed for the night.
May 10 – like I mentioned I had to get to the shipping office by 9am to get this paper work handled to get my bike out in time.  Got
up and unloaded some clothes I will need in Iran till my motorcycle gets there and made my way to office got there at 830am.  Handed over the paper work for the bike paid the ferry price now off to the shipping yard to drop the bike off.  Had to stop at two other offices before I could enter the port all a bunch of bullshit but whatever.  Then They did a half ass inspection of the bike and showed me where to park the bike.  After 3hrs I had the bike Parked and then handed over the keys.  Grabbed a uber and was making my way back to the my hotel.  I again ran down to the pool to soak up the sun and cool off.  This maybe last day relaxing for awhile since Iran I will be riding almost everyday.  After the pool grabbed some food at the hotels restaurant and 3 free drinks I got for being a titanium member and called it a night.3
Social Share