Day 33 – Woke up in Latvia and wanted to make a stop at this fort and visit the museums that were inside before the route south
into Belarus.  I packed up camp and cruised into town to the fort.  It was mainly just fort walls nothing really that special.  The art museum I had plans on going to was kind of a disappointment but there was an antique museum near by that had some really impressive art work as well as some rad ass antiques.  Afterwards I grabbed Bernard and made my way to Belarus only 30 mins away.  I arrived at the Latvia border to get checked out they were persistent on making me realize that I can no
come back into Latvia. Asking twice am I sure that I want to go into belarus of course I said yes.  Arrived at belarus did paper work for the bike and into belarus and towards a lake I had plans of camping at.  Now back pedal a bit the reason for this whole ordeal belarus choose not to close its borders during corona I'm matter of fact they kept everything wide open and invited people to come visit.  Anyways like I stated at the beginning of my corona tour i am no pussy I knew what I was getting myself into and I want to enjoy it.  So I arrive at this lake I had plans to camp at it was Sunday and weather was beautiful with that said this place was a fucking mad house.  Not sure how big this lake is but I drove probably for about a hour and could not find a place to set up.  I said fuck it I am over it I grabbed dinner at a restaurant and carried on into the city another hour an half away.  Got checked in around 8 and called it a early night.
Day 34 – got my ass up around my typical wake up time 11 and was ready to take a stroll and see what the city had to offer.  This
city when I arrived I instantly saw the beauty of it.  It truly one beautiful place.  Grass is bright green flowers everywhere no trash nice looking buildings it was crazy to see.  I made my way to a the war museum and low and behold its Monday so its closed.  I took a stroll around the park near by and milked the time doing absolutely nothing but being a tourist just staring at shit.  I made my way to another museum and again was closed.  It was getting near 4 at this time so I said fuck it walked around took some photos and head back to the hotel to relax for a bit.  I grabbed dinner for the night and on my way back into the hotel I hoped in the elevator with another person.  I realized my ass never hit the button but after he got off the elevator went to the top.  I got out only to realize I was on the roof.  So fuck it I cracked open the beer I just got from the market took in the views.  Unfortunately it was a cloudy night so the sunset was lame but the views of this perfect little city were amazing.
Day 35 – woke up to rain so I was like fuck really going to be stuck inside all day.  The war museum was only about a 15 min walk
away so I though no matter what I got to run my ass over there  to at least do something today.  I saw a break in the weather or what look like a break from the sky outside so I decide to make my move and again so glad I did.  These museums over here about the ussr and the germans are just so insane.  Multiple levels tanks reenactment displays outfits weapons tanks planes buildings its literally had everything but unfortunately belarus must be unaware that other human beings come to there country besides Russians.  So I learned absolutely fucking nothing
from all this shit.  After the museum I rolled over to this art museum that was supposed to be near by and of course the rain broke again.  On top of that all of course the damn museum was closed.  Nearby was a domino pizza now if you know me I absolutely dispise any sort of pizza unless its Chicago style or Pizza Hut. But dominos was the closest thing I could get to pizza so it sounded great.  I order a large pizza cost me 10$ and as I went to dive into the pizza realize it was fucking bbq sauce and not tomato sauce.. so pissed but he situation I hate eating any other pizza as it is and I get this shit. I indulge on half it and walk back to the hotel with the other half.  Its belarus and I haven't really been out since Warsaw Poland with my boy Kyle so I felt like I need to go for at least a drink.  Made it to this one area that
the front desk girl suggested.  First bar was wine only so that was a fail.  Second bar was a sushi bar so I paid 10$ for a damn beer hated that place moved onto next.  Next was karaoke bar had a drink 7$ okay that's better but still bullshit in my opinion I dont even drink good beer for that price.  4th bar I went to ask for a drink in English guy to the next me ask where I was from told him and invited me for a few drinks.  I told him in my 3 days in belarus I felt like people are not as friendly as they suggest they are.  Ironically he was Russian but lived in belarus for 6yrs and told me the situation why with voting going on and everything.  I found that odd considering everyone seems to be out buying 7 and 10$ beers during these times as well.  None the less was a good guy that took me to a few other bars paid for all my drinks during these times before splitting ways and calling it a night
Day 36 – woke up to another rainy ass day so after getting home at 4am last night I said fuck it and im just going to lay around an not do shit today.  So far this is the first day of the trip that I truly choose to not do anything.  I updated my last blog downloaded photos booked some tattoo apptoinemtns and just wasted the day away in the hotel.  Around dinner time I thought I go to the mall and grab sone cheap ass food.  The place was of course packed nuts to butts.  Now every fucking place is in Russian barely anyone speak English so I was like fuck it I am just going to order Burger King I know what a cheeseburger looks like and I know what I will get.  So order food took a seat grubbed it down and head back to the hotel for the night.
Day 37 –  Got my ass up and was on the move once again.  I was making a stop at a city that had some castles and then carrying
onto the next city of Brest.  My original plan yesterday was to come here but after realizing it was on the way to Brest it actually worked out and didn't exactly miss out.  First castle or fort was simple nothing that interesting.  Made the drive to the next one which was a lot better.  Took the tour enjoyed looking at a bunch of objects
with no information what so ever in English besides a small title "knights armor 1800" or some other short ass thing.  Afterwards went to a restaurant just for a little snack aka soup and a beer and moved further west to Brest.  Got in around 7 so was hungry and wanted dinner now.  Made my way to a restaurant the front desk girl suggested with again a big fail on the menu only being in Russian.  I blindly pick something and to my surprised was extremely good.  After dinner and just frustration with everyone in this country just choose to spend the rest of my night in my room
Day 38 – Got my ass ready to do some walking today.  From what I understood Brest had huge importance in the wars and was a
bloody battle ground. Of course there was much more fortress to visit.  First one was really disappointing again no info what so ever just a bunch of ruins.  Next was the gem that I guess everyone comes to visit.  Huge ass place which seem to be more of memorial then anything.  Yes again had museums but since I know no Russian it was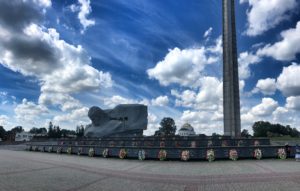 just a visual thing I choose to walk through.  Yet you could definitely feel the power of the place no matter what language you speak and that made it worth it no matter what.  After walking in circles around the complex I realized when I was walking in there was a train museum.  SO shit I haven't been to one of those in years so I made sure I stop in there.  It cost me 4$ nothing that special and again no information but it was something different and I didn't have to walk out of the way to visit it.  Grab some dinner that night at a place that actually had a English menu literally the first one ever since I been here and called it a night.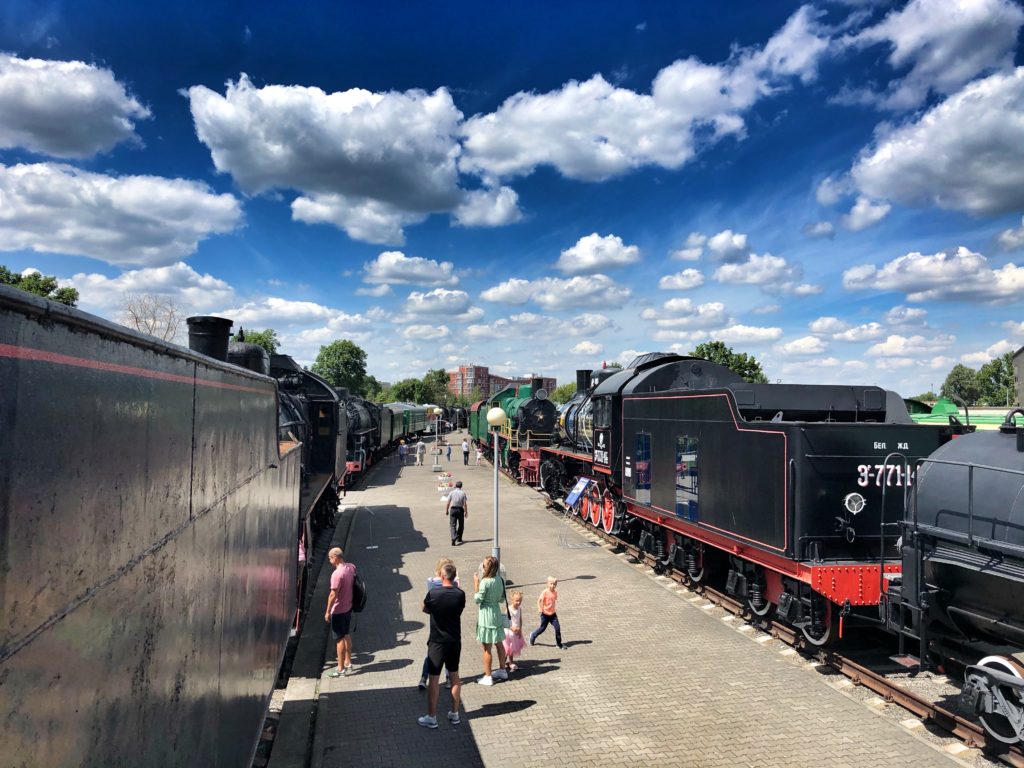 Day 39 – this was my last day in belarus so didn't really have much planned was just going to wonder the streets hit up some
museums.  First stop was this tiny ass museum about just the area of Brest.  It was inside this house so it was a in and out kinda stop again cause nothing was in english.  I moved onto this history museum not far away.  There was a lady in there that seemed so happy to see me there. 
Like the other museum I was the only person in this place.  The lady of course knew I didn't speak Russian but was the only helpful person I met during my time here.  She grabbed me this booklet that was in English that matched to the words of the items I'm looking at.  Again was a really nicely done museum and a lot bigger then I thought it was going to be.  The lady was so funny she would leave the room and then come check on me and try to explain in Russian about what im looking at.  It was cool to have someone so motivated to try to teach me.  After the museum I took a stroll to what i would say is a promenade this walking street that was super busy and had a bunch of restaurants and shops.  It was a beautiful day out so people were everywhere.  I then spotted kfc and could really go for some chicken and if its anything like in Germany they had spicy chicken.  So couldn't resist and
walked in and low and behold English menu on the touch screen and spicy chicken so I was sold.  On top of that it was buy 2 beers and get the 3rd free.  I got to indulge in my kfc and beers but afterwards make the walk back to my hotel early.  Tomorrow was not sure if it would turn into a long day or not. The plan is to go to Ukraine but all info says all bordering countries have closed there borders.  So if it was going to be like Hungary where I just hit up all the border till I get in.
Social Share