Day 56 – Got up with no real rush to get anywhere I had just a easy 4hr drive up to Poland.  The German guy who rented me kayak
the day before mentioned about an area a bit south that rents kayaks to go down a river.  He showed me on the map where it was located so once I was already packed I made my way south before heading north into Poland.  I came up on the river found the kayaks and when I go to ask about rentals the fat lazy guy didn't even look at me and shook his head like no.  I then ask again I said no I can't rent kayak he said no so fuck that guy I left and made my way along the river to see if there was another spot.  About 15mins later on the other side of town I see there's another spot.  When asking them about renting they suggest sorry one person is not possible we only have 3 person kayak so you need at least 2 people.  Now I wonder if that is what the old miserable shit from last place was just giving me the cold shoulder.  So that really sucked I got
back on Bernard and we started our way back north up to the Czech and polish border.  Main reason going back to Poland was because of this skull church that I saw on the internet and it was near this national park in Czech.  When I finally get to the church It was around 4ish and the guy at the ticket booth said its not possible for any more entry today.  So im like well fuck that sucks to so head into town to grab some dinner.  Was undecided what to do and figured well I might as well grab a room for the night and then see it in the morning then go to the place in Czech before heading into the city of Prague.  After dinner I went to 5 freaking hotels 5  and each one was sold out.  Now I am near a pretty big town so dont look like wild camping will be easy.  I did see there was a river about 15mins away  actually in Czech with no buildings on the maps.  After getting to the other side of this river there was a nice clearing with mins on the back side that I called home for the night.
Day 57 – Going for a second attempt on visiting this church.  Got everything packed and moved back into Poland.  I got there at
like 930am and there already is a big line out front.  I pay my admission wait there for about a hour before entering.  Now most catacombs or skull church you walk through its not just a single room.  I guess I should have done some research here because it really was not worth seeing.  You walk into this room your stuffed in there with 30 other people you can barely even look around they do not allow photos yet of course there everywhere on the internet so just snapped a few photos off.  Once were all loaded in the room they close the door then the lady plays some recording for like 20mins which is in polish so I believe half of the people in here do not even know
what the hell its saying.  After I wasted that amount of time I made my way to these rock formations back in Czech about 40mins away.  Its on the outside of this tiny little town and my gps didn't even really know the location but found a place to park had to pay like 3$ and about a 15min stroll through some ground to get there.  Of course when I choose to enter there was a big school trip of old people there that I had to buzz around so walking in I kind of rushed.  You come to the end and there was a line of 200 people not sure what they were waiting for but I choose not to wait because I was heading into Czech and I had about another 4hr ride yet.  The
place was really cool they consider the Moab (from utah) of Europe.  All these tight twisting gaps between rocks from wind and water that formed this place.  The route out I got to enjoy the place a lot better since there was not huge groups of people everywhere and a lot more quiet.  I eventually got back to my bike and made the journey into the capital city of Prague.  Since I left the rock area around 2 I choose to take the freeway instead of the back way because the back was was 6 and half hours.  Needless to the say the freeway was boring and hot but got to my hostel for the next two nights and made my way to the streets to grab some food for the night.  When I got back to the hostel people were starting to gather in the hang out area and a guy from Colombia introduced himself and we started talking.  He mentioned about the hilltop behind the hostel that had a great view of the sunset so I said well lets go up.  We grabbed two beers and cruised up to see an amazing sunset.  When we came back down a guy from Sweden started to talk to us and suggested a rum bar near by.  After finishing our second beer we made our way down the street to enjoy these rum drinks.  While drinking at the bar the guy from Colombia mentioned how there is a group of three 17yr olds that want to meet up and party with us.  Shortly later the kids as we referred to them as jumped in partied with us.  The night gets blurry but we bar hopped all night long and apparently I fell asleep in the bus on the way back at 5am.
Day 58 – I really needed tires for Bernard so I made my way up and out of the hostel around noon made my way out the door to go to this motorcycle shop that said they had the tires I like.  I get to the shop they then inform me to come back tomorrow they need to have them delivered to the shop.  So fuck that was a waste I even said in the email the day I was going to arrive.   Well im about
another 30 mins away from my favorite church in the world and the best catacomb (skull church).  I was at this place 9yrs ago and things were a lot different then.  You have to buy a ticket fro the place a half a mile away.  It includes another church as well in the fee so I go into the church nearby for a brief look and then carry back to the reason I am here.  Now again this is another no photo place which was not the case 9yrs ago in fact I took a photo as soon as I walked in.   Anyways walked in away from the two ladies at the entrance and snapped photos anyways.  After there was a little souvenir place on the other side of the street so I thought its hot fuck it im going to have a seat and drink a beer no point in rushing back into the city. 
Drank the beer and hop back on the bike for a hour n half ride back into the city.  When I got back into the hostel everyone was already in the chill out area.  They were planning the night already but I mentioned I was hungry so the guy from Sweden and another new friend from Denmark planned on going to some pub near by.  The menu was usa style bar food wings appetizers burgers typical shit.  So for me I was not thrilled and everyone in there spoke English like everyone and they were watching hockey. I order some wings and loaded nachos and like in the usa the portions were huge.  SO the guys helped chip away on these huge ass dishes.  WE finally got back to the hostel and instantly get thrown into shotgun beer with the kids.  We made a few runs to the beer store across the street before finally deciding to head out into town.  Did a whole lot of bar hopping again some how we got split up so I was hanging out with the one guy where we literally had just one drink in like ten bars before randomly running into another one of the guys who was chilling in the park area with a bunch of other people.  Think we hit up a few more bars before making our way back to the hostel and crashing out again around at 5.
Day 59 – the kids left today at 10am not sure how they manage to pull that off but I woke up at one I was to check out today but I was like nah im good ill stay another night.  I finally had to get my ass up though cause I need to get the tires for my bike. Its fri the shop is closed tomorrow and I know they have the tires I want.  Around 3 I finally get my ass out the door and make my way
back to the shop.  The guy was working on a bike and mentioned he closes at 5 I said its okay I can just buy the tires and get them put on somewhere else.  Around 4 he said just wait here ill be back he has to go get the tires.  SO to me it sounds like the tires were at this place yesterday as well but whatever I wait he comes back like 20 mins later but is talking with another guy.  Now its 430 before he tells me to come back he then asks if I can remove my side panniers.  Of course I can so we remove them and said it will make easier to change the tires we'll okay guess he is going to change them after all.  Took him about a hour and half cause he even balanced my wheels as well which probably need that since I dont think thats ever been done on the last 3 tire changes.  I get back to the hostel after Bernard gets his new shoes on.  I grab a beer and sit down the Colombia danish and Sweden guys are still there.  I meet this guy near me who is from Syria and he tells me about how a bunch of them all are going out if I like to join.  I was like I got to leave tomorrow because the private room in the hostel is sold out so Im not going to stay.  The guy from Denmark says he is not going to stay out late so come.  FUck it I say lets go.  Nights like these are what make staying at hostel so inspiring and truly makes me smile.  It was guy from Mexico England girl from France guy from Syria Denmark Spain and then of course me from the States.  We were on our way to meet up with these guys from Poland at some party boat.  Yet when we arrived  it was nothing crazy going on.  We then stop at a beer store grab some beers and started stroll to another part of town.  Both of the bars we went to we could enjoy just chilling on the streets as well as many others did the same.  So we grabbed more beers from he beer store and kicked it on the streets.  Eventually people started to separate so we lost the Mexican guy girl and British guy.  We bar hopped for a bit and then the guy from Syria and Me ended up going out own direction.  It was sat night but for some reason the night seemed to be dead so we bar hopped a bit and then just grab some drinks and headed back to the hostel around 3.  Had some drinks at the hostel where we met up with Colombia British and the girl from France before calling it a night.
Day 60 – Finally time to check out I was heading south to this other city in Czech called Cesky Krumlov.  I heard about it when I was riding in Slovakia from another couple riding around Europe from Hungary.  They say they visit it every bike trip its a little fairy tale city that I have to go.  I had no plans there so I ask the front desk girl about a hostel there that may have private rooms.  She mentioned they hostel they refer people to does not.  SO I sit in the lobby trying to figure shit out during this time the dude
from syria is up.  He said he wants to grab a coffee if I want to come with.  Well if you did not know I HATE COFFEE and I HATE THE SMELL OF COFFEE but ill grab a tea and hopefully a muffin or something.  After some walking to find a spot they have just that.  We chill outside talking and I mentioned I should probably get on the road and I need to go back to the hostel to still find myself a place to stay tonight.  I get back to the hostel book a hotel and start my 3hr drive south.  As soon as I enter the city its all cobblestone street and it begins to rain.  I find my hotel right int he midst of this little city so had to drive through people to finally arrive.  I get checked in and see this hotel is so amazingly done.  I get a little room upstairs but again its just so nice with so much little details everywhere.  I relax in my room that finally has ac after 3 days of camping and the 3 nights at a hostel.  I eventually get out when It stops raining to grab some food and just walk around for a bit.  I did come across this little motorcycle museum above a really cool restaurant.  After visiting the museum the lady takes me to the back side of the building and shows me this huge generator.  She mentions the local rive turns the it and that supplies all the electric in the building.  Kinda impressive to see may not sound that cool but I was intrigued and was blown away thats still in works. I was then ready to call it a early night in nice bed with ac.
Day 61 – Get my ass up early to fuck this day up.  I grab the free breakfast (rarely ever eat breakfast) so had a egg sandwich and a banana.  I knew you could kayak so I once again ask about kayaking down the river that winds through the city and once again I am told its 2 people min they do not have anything for one person.  Super bummed about that I do the typical touristy shit.  Now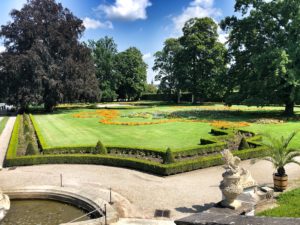 im 2 months in Europe so there is really not much that will impress me  or be something I haven't already seen on this trip. I get my thrills just literally soaking up the energy of the tourist and the locals.  I can do nothing but yet feel like I did a lot by just being in the midst of everyday life.  I do make my to the castle that makes up this city.  I visit the beautiful gardens and make my way to the tour of the castle.  Its a guided tour which I like cause at least I know I won't have to read or be screwed cause there is nothing in English.  We are instantly told no photos yet again stupid
this day in age considering im sure there is a million photos on the internet of the shit but whatever makes you sleep at night.  It was about a hour long tour and one of the most interesting castle as far as information of this trip.  I of course got a few snaps off inside during the tour then moved on to the out look tower.  The tower price was included with a museum in there.  Well all the views I already saw were about the same as the tower views so I walked up and pretty much headed straight back down.  I make my way to the museum again pretty much the same shit I have seen some really interesting glasses but besides that I seen it typical castle shit armor weapons and basic shit that all church as gold and silver plates.  I cruise around in the city for a bit and decide to grab some food.  It was around 5 which is early to eat for me but sit down at a local place to have a dish from that area.  It was a bit sweet but I thought it was damn good it was pork covered in sauce (if its a saucy dish usually the first thing I will order) came top with cream and berries and had these potato and bread dumplings.  I had a beer to kill some time but was not long enough so went back to the hotel for a bit.  I wanted to go back up to the church to take photos from there at dawn.  So now its getting dark a lot earlier then it was 6weeks ago so around 8 I head back up into the castle.  It started to get dark but the city didn't light up as well as I thought it would.  I grabbed a few photos and called it a night.
Social Share