Day 1 should have started on Feb 7th but the few that know me semi well enough know I dont wait around for nothing to come.  So I will live each day likes its my last.  My boy Willis came out from Maryland to join in on this motorcycle journey for a half the time.  So he flew in on Feb 5th the same day I flew back into Los Angeles.  So come Feb 6th the day the journey begins I drag Willis and my boy Mike down to Mexico for one last hooray. Now mind you we had about 24hrs to party in Rosarito and Tijuana before my flight left.  So that means I really had to be back in 20hrs to pack my bag and get on a shuttle to the airport just in time before the flight leaves.  Well needless to say it all worked out we got down to Rosarito around sunset so enjoyed the beach and some beers on the beach before it got a bit chilly and we decided to head in doors.  So took them across the street to my favorite taco stand I take all my friends for some foods and beer.
We made our way up to Tijuana for the night to do some more boozing and believe it or not actually had a semi early night think we were in bed by like 2.  Next morning woke up and Mikee suggest lets go to the border wall on the beach.  So we head on over there to take some photos of the Tijuana sign the beach the monument there and all the fuck dick wad trump graffiti.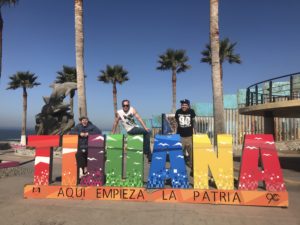 Shouted through the open walls saying fuck you and flipping off the border patrol before grabbing another round of tacos and micheladas.   After we grub down we started our walk across the border and headed back north to los angeles.  Got up to Los Angeles around 6 grubbed down some food and had the bags pack just in time to grab the uber at 830 to head to the airport.  Feb 8th consisted of flying all day to asia literally like all day where we had a 3hr layover in Taipei.
Feb 9th landed in Cambodia finally got out of immigration and customs and instantly tried to find our way to the shipping company to hopefully pick up our bikes..  So to back pedal a bit Feb 7 I actually got a call with a automated system saying I need to sign some sort of papers before importing but it hung up literally right after it was finished.  Well now I am in Phnom Penh cambodia and the office says my bike is still in customs.  After trying to understand someone who does not speak good english (them) or a person who speaks no cambodian (me) on the side of a busy street with traffic buzzing by.  I hung up the phone and just went straight to the office.  So I sat down and what the guy was about to say upset me incredibly.  So I shipped my bike out in advance so when I land I could pick it right up and start my journey north.  Now this guy is telling me they need this and that documented and that the importing of the bike has not begun without my info.  Feb 7th is a friday and I know this all to well government pricks dont do shit on weekends so he is saying it could take at the very least till the end of next week.  Im truly broken I planned this whole trip for literally a year and the very first day came out likes this.  Well I know there is physcially nothing I can do.  So just smiled and walked away in hopes something will happen very fast. The day rounded out by just walking about in the city enjoying the food and calling it a early night. Feb 10th we got up and I went back for a second time to the Genocide Museum to show Willis.
It is a very weird feeling to see and hear the stories of what was done there only 40yrs ago.  Since I been here before I kinda knew everything but a lot of info I have forgotten.  So it was nice to be refresh on the history of the killings that were done here due to the USA bombing the country. (fun fact – usa dropped more bombs on cambodia than of ww2 – disgusting) The country was a Communist country but a Democratic politician Pol Pot put fear into the cambodian people of the US doing more harm so he had them rally behind him (sound familiar hmm) and then later turned on his people and killed 3-5million cambodians before getting chased away by the communist again 5yrs later  with the support of the communist Vietnam.(yeah communist sound real horrible) Anyways after that we went over the Palace which I have not visited before and ran into a Tuk Tuk driver who spoke perfect english and suggested we come with him tonight to a Muy Thai fight we agreed on meeting him at 4 outside a restaurant.
So Willis and I ate some food on the river and visited a few buddha temples of which I never saw before but never making it to the Palace again since Willis had a number 2 emergency.  We met up with our new friend Kim the tuk tuk driver and bought to 12 packs of a beer and drank with him on the side walk inside the tuk tuk.
While drinking on the side walk we met a chick from finland who just so happened to be traveling around the world by herself at the age of 24 we invited her to the fight she accepted and off Willis and I went with our new friend Kim and Sandra.  Now I am not huge into the whole fighting bullshit just cause I think its super political and reminds me of a shitty WWE.  Well it was not all that special but with beers in the system and in a foreign land it was something memorable.
After the fight ended with more booze food and a few games of pool then in a club till 4am.
Feb 11th we woke up a bit late so we called up our new friend Kim (tuk tuk driver) and headed straight to grab some food.  Then grabbed another 12 pack of a beer and headed to the killing fields.
This again was a new place for me to visit so I was super excited to visit but of course once your there nothing really exciting it was the absolute opposite emotion.
It was definitely worth visiting but completely depressing to hear the stories.  So on our way we pay our respects btanother 12 pack was needed as we made the hour drive back into the city.  On the way back Kim let me take control so I got to drive the Tuk Tuk for a few feet ha. Yeah he was scared in the back as I got close to the side of the road.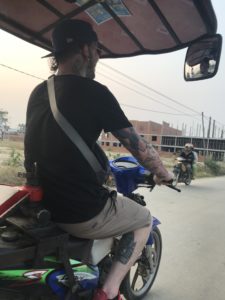 Once back in the city  Kim took Willis and I to this amazing local spot where we had steak eel and tongue o and a baby bird ha.  After that we hit up some local spots where Willis got bit by a dog cause he felt the need to pet it lol.  Then ended back up at a club where Kim was already wasted but kept drinking with us and manage to drive us back home just fine around 7am. The following day we had no plans just hoping we would receive a go ahead letter from customs to receive our bikes.  By noon that did not happen so we had no plans and just booked another extra night in the city but planned the following day to waste the rest of our time at the beach.  Next day we hired a driver to drive us 5hrs to the beach were we could at least enjoy the hot weather with water near by to cool off.
We got in fairly late that day so we went straight for the food and beer at the hostel we were staying at.  The first night there ended just after dinner when we went back to relax in the air condition for a bit before the night and just ended up passing out.  The next day of course we were up fairly early so we decided to get some laundry done. ( i went there with no clean clothes)  So for a few bucks we got all my laundry cleaned and a few items that willis had.  Willis grab a bite to eat and then I mentioned about heading over to one of the islands.
 So we booked a departure around 11 and a hour or so later we were on this beautiful little island with all white people sadly.  We were only doing a day trip there so it did not really matter but the beach was littered with nothing but white people which me personally i cant stand.  I dont choose to get away just to spend it with my own kind but with a beautiful beach and water of course the western civilization is going to flock.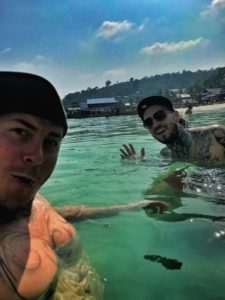 After a relaxing day drinking catching some rays and flopping about in the water we caught the last boat back to main land.  Well when we arrived back on land as we walked up to our a hostel a casino on the way was having this big ordeal out front come to find out it was the Chinese New Year.
Chinese New Year Ceremony Video
So sound like a reason to party so willis and i got back to the hostel relaxed then began our night.  Unfortunately all it really was was a few fire works nothing really all that special.  Next day we head back down to the beach on the main land and this time we were the only white people.  So we grabbed a place to eat and ordered a large dish that we shared.  When returning to the hostel that night I got on to check my email and of course I get a email from the shipping company that says due to the chinese new year the customs office is closed till next week.  So needless to say we were pretty bummed out but in a few hours drinking at a bar next door would change the night.  So for those who never stayed at a hostel there amazing to meet people, like truly incredible.  Everyone just hangs out and introduces themselves to each other.  So we go to a hostel next to ours to grab some beers and say who are we going to become friends with tonight.  There was two opens seats at a table where these two guys were sitting so we asked if we could sit down.  Instantly they said yes and shit got real ha.  The one guy was from Sweden but lives in Norway the other guy was from Switzerland.  They actually just met that day as well and we all shared some beers for awhile talked before we decided to move on to another place.  As we left the bar a tuk tuk driver suggested there was a jungle party do we want to go.  All 4 of us instantly said yes and soon we were on a 30min drive to somewhere where the roads were definitely not paved and streets lights and cars ended.  When we finally arrived I think we were all in shock it was like a little carnival in the middle of the fucking jungle.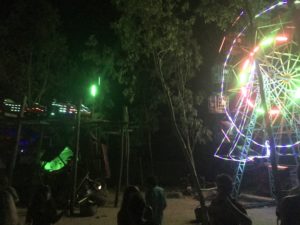 Had 3 rides you could get on and all kind of little bridge fire place bar set up.  So we instantly change our usa dollars in for the jungles currency and grabbed some drinks.
  At first we thought the rides there were just for looks cause they didnt look safe at all.  Needless say a drink or two later you can get on them for free so instantly we did.
We partied there till I have no idea when but I do know it was not sun light out by the time we got back so we did good.  Needless to say the rest of the weekend we pretty did nothing just waited to hear what was going to happen monday.  So monday came around we decided to try and go to the port our self to talk first hand (hopefully they speak english).  We got there we got told to go hear and then there we finally arrived at this office I forget the name of it but spoke with a guy there who sounded like he be able to help.  He said unfortunately he could not do much but he called a friend up that he thought possibly might be able to.  We met with his friends at a cafe were they try to call others to help us out.  Of course nothing could of been done right at that moment but the guy collected my number said he would get in contact with me tomorrow.  Tomorrow comes around and no word from the guy from the day before not sure if he was just not able to do a damn thing so we did not hear from cause of that or he was not able to call my USA phone number.  So Willis and I sat there feeling pretty defeated cause that same day we got a email from the shipping company that said our bikes are still sitting in customs and it could two weeks to a month to get them out.  We both were let down and a million different options ran through our heads on what to do.  Willis suggested about flying back for 3 weeks to tattoo and just come back.  I was fighting the idea cause I truly thought any day now the bikes could be released but we already been sitting in cambodia just blowing the money we have saved for this trip doing really nothing.  So when we found a rd trip ticket flying out tomorrow for only 1000$ it really only made sense to do so.  So our last night we packed our bags up decided to say our good byes by partying till 3am right when our driver came to drive us back to the airport.  We loaded up and passed out while we made the 4hr drive this time back to the city.  We got to the airport early in hopes to store our luggage there well as luck has had it so far we were turned down there was no luggage storage.  So I sat in the airport for 3 more hours till I was able to board my flight as willis had another 3 more hours till he was ablet to check in.  I flew back to Los Angeles in 17hrs as willis had a 45hr flight back to Dc.  So now were both back state side doing some last minute tattooing for a few days just patiently waiting to receive the go ahead letter from customs.  Either way we both bought our plane ticket back to cambodia on March 9th one month after when we were supposed to start.  Now we could both feel angry and hateful over the matter but it is what it is.  It seems as though this is the first time the shipping company in cambodia has dealt with this.  There also the language barrier that is a huge issue and as I have read in several other stories from man people this shit happens in all countries.  The same week we got this letter I know of a rider from california whos bike sat in custom in australia for ten days.  Theres a movie called Kindness Diaries where that california plated bike sat in customs in spain for two weeks.  So this does happen all the time it was just something I did not plan for at all.
Social Share