Day 47 – It was time to leave the beach its Sunday not much shit going on I am sure and time to moved my way the opposite
direction heading north west to a land lock country called Moldova.  Its a really odd country because inside the country it has an unofficial country call Tranistria with its own flag and currency and speaks Russian.  I got to the border in hour and half.  Unfortunately the country is on lock down so I can only spend 24hrs here and have to exit to Moldova.  Such a weird crossing they dont stamp my passport they stamp a paper and  then put it in my passport.  I went into the city its Sunday the streets were ghost.  I walked around a bit to find a hotel that actually took tourist in the center.  Checked in and decided to walk around a bit grab some photos and get some food.  I was told they take US dollar as well as euro yet or course the restaurant I go to which was a really nice one in the middle of a park didn't take either nor do they take visa.   They only take there credit card.  I said well I can try to go to a atm he said what do u have I said 20 in usd or a 50 in euro and he said we will take the usd but exchange it back in our currency.  I said okay thats fine wouldn't hurt to have some of your money anyways since now I know you do not take either of the currency I had with me.  Afterwards strolled around the park that was near the river and just came back to the hotel to update the blog and post photos.
Day 48 – Woke up and checked out last minute noon.  I figure not much is going to be open since this place is on shut down so I
just decided fuck it I am going to head to Moldova.  After about 30mins I get to the border I give them the paper they let me through I cross the bridge hit Moldova I was told I need to drive 6km to go to immigration to get a stamp.  I get to immigration get stamped in and continue my way to the hostel I found for the night.  Walk in and no one is around which is very very odd for a hostel.  I go upstairs say hello there is a asian guy on a computer on the floor he just stares at me with his head phones in and say hello.  A guy walks out one of the rooms and said hello I said I was wondering if there are rooms available.  He said yeah I ask for a private he said yeah no problem.  He hands me the keys shows me the room and I unload.  They only take cash I ask if its the same money as what I had in Transnistria he said no.  So I make my
way into the city center to get money exchange to pay for my room.  On my way back from there I pass by this history museum so I was like fuck it I am going to go in there.  Do a little history tour which again was not really in English except for the entrance to each room.  Now I was curious cause this was not in Russian so when I get back to the hostel I ask the guy what language is this I thought maybe French or Portuguese he said its Italian and or Romanian.  Now shits even weirder about this little country. Afterwards he mentioned he was going to go to the market if I want to go with I said sure he ended up buying a large 2 liter beer and bottle of cognac to split.  He didn't let me chip in on the price and he grab some snacks.  We went back to the hostel split the booze and then he was all hyped to go out.  It was Monday im like is there actually something to do.  He's like of course so at 2 am we head out to this club thats above a shopping mall.  Of course it had to be a hookah bar so had to deal with that shitty perfume smoke that people do to look cool.
Day 49 – I was told about this winery that I must go to and how beautiful it was.  It
was only a easy 30 min drive north.  Around noon I head out the door to this winery.  So far its been museums history shit and castles. So I was excited it something different and this place definitely was.  When I went to check in I was the only one who needed a English speaking tour so I actually got my own private tour guide.  She tells me I should grab a jacket if I have one cause its 12 celsius like 52 degrees inside the city.  I am like well obviously I know nothing but "inside the city" interesting.  So I grab my hoodie off my bike and hop on this golf cart and then we
pull up to which is a straight cave.  She tells me its 120km (like 70miles) of underground tunnels that make up the winery city. It is the largest winery in the world I was informed.  I am completely intrigued now and yes it was cold inside there by the way especially on the golf cart zooming all around  We pass by these huge ass wine barrels before we finally hit the average size wine barrels.  She informs me the big ones were from soviet period.  She then informed me how the tunnels all started underground.   This is all limestone so they originally used it to get limestone but the owner of the winery bought the land when he realized it was perfect temp and humidity for brewing wine.  Next stop was
the champagne but of course it can not legally be called champagne if its not made in champagne France.   Anyways this was the deepest part of the city she said at 100m (300ft). Now since its not able to be called champagne I think she was saying meta champagne not really sure.  But explained the process of how they rotate the bottles corks came from Portugal bottles from France and the length of how they sit flat and on an angle.  Next stop we went to the toast rooms.  They had several rooms the coolest was the underwater room for
sure but they had a presidential room where Vladimir Putin had his bday few years back.  Next stop we went into the collection room showed me the oldest bottle they had at 1905 which was a sweet wine so its still drinkable and is worth 185,00 dollars.  She then showed me different famous people collection there was some ding dong from the usa John Kerry I think his name was.  No idea who it was but literally right across the way was Vladimir Putin collection.  Saw Germany  Canadian  French flags and few others countries of people from around the world that save there collections there and have them shipped to there country when they want some.  Afterwards was the wine tasting she asked me do I want to try a red white and champagne or would I like just a tall glass of one.  I opted for the tall glass of red and not going to lie it was amazing.  I grab a little lunch to while I was there got these muscles  in some cream sauce which was insanely delicious and only cost 20$ for the tour and 9$ for the muscles.  Afterwards I just made my way back to the hostel think it was around 4 by the time I got back.  Grabbed some dinner and called it a night.
Day 50 – Checked out of the hostel and was going to make my way north to this monastery that over looked this valley and to this
old abandoned nuclear bunkers left over from he ussr.  First stop monastery which was really nice.  It literally sat right on this cliff that overlooked this green valley along a river.  It was a really amazing view and sadly it was the only thing on the cliff.  The rest of the village was on the back side of the mtn which I thought was shitty.  There was a museum as well but yet again that was closed.  So I made my way further north to the nuclear bunker.  You make a turn off this concrete road that is broken up in between these grown out plants on both sides.  About a 300 ft back the
road is dug up I guess so people dont drive back to them.  So I park Bernard and make the walk back.  Not sure if they do not want anyone here or not cause it was a 1.2 miles back the same concrete road till you reached these abandoned bunkers.  (okay I did do some research on this) There is two insanely large metal cylinders in the ground 60ft deep I do not know how wide they are but I would say maybe about the same in width.  Inside is a bunch of what appears to be rooms.  Apparently there is only 4 of these known in existence (others could be still in use) but the other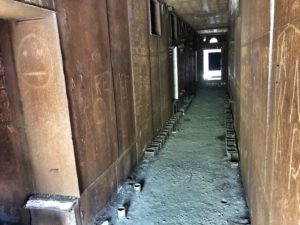 3 are on military grounds.  They were built incase a nuclear attack happens.  That they could live in this thing for a long time till they were able to return to earth.  Its really wild to think the elites have things like this and just proves over and over again 90% of the population is completely irrelevant and not even thought of to the elites.  After some walking I decided it was still early I was just goin to cross into Romania so head to the northern border crossing but was denied as its was not open till normal car crossing.  They told me I needed to head 3hrs south to that border crossing.  Well it was like 6 so I was like fuck that I will just find a place to camp for the night.  The crossing is on this large river so I drove up 10 mins north till I found this dirt path down to this beach.  The road split to the left that look like it went down a really steep hill or the right look like a popular path.  So I took the steep path cause I figure maybe no one will be there.  I got to this Little Rock point that overlooked the beach it was beautiful.  Nice breeze the weather was just perfect this place was by far the best camping spot of the whole trip.  I set up shop eat a sandwich I bought a few hours back cause I new I was going to camp just didn't think it be on this side of the river I thought I be on the Romanian side.  Watch the sunset laid on the rock and stared at the stars as the full moon came over the horizon and let up the sky I decided to tuck into my tent for the night
Day 51 –  Got up fairly early to make this drive to this border crossing 3hrs south.  After getting everything packed up I got on the
road around 10am and made my way back south (towards the city actually).  I get stamped out of Moldova no problems once I get to Romania the customs guy chats me up in perfect English ask about my trip and says after I get my passport stamped just go you do not need to stop for me to search you.  Go to passport control and the issues come into play.  I carry a usa passport I can not enter into the country.  I said not at all they said no no one from usa I explain I been in Europe for two months now he said sorry and turns me around but suggests maybe I try to take a ferry from Odessa to Romania.  So I guess now I have to drive 3 hrs back to Odessa.  So I get stamped back into Moldova go straight through to Transnistria get stamped in and
then onto Ukraine.  Now more bullshit comes about.  Since I was just in Moldova which is a red state for the virus I can't stay in Ukraine I have 48hrs to transit.  SO things just now at the end of my trip are getting to this bullshit.  I go to my hotel in Odessa I stayed at before cause I had a 25$ so the hotel only cost me 15$.  I instantly jump in the pool to cool down cause now I am drained mentally like what the fuck am I to do.  That was the only border open to Moldova in the furthest south east part of Ukraine its 10hrs to the first Romania border or do I take the ferry to turkey and drive north into Bulgaria where I want to leave my bike.   Which I do not want to thats so close and I have 3 weeks to kill till my flight leaves and I had plans for turkey next year.  Also my whole trip I really based it around visiting Romania so now I am just super bummed and not sure what to do.  I grab some dinner google for the rest of the night and figure ill make my choice in the morning.
Day 52 – After over thinking and not being able to sleep all night on what the hell to do. I thought fuck it I am going to make the
drive 10hrs to the other border.  If I can't get in I will loop back around to Croatia where I know I can store my motorcycle for free again.  Its not ideal situation but I got to be truly thankful I was able to get this far and just cherish the moments I had.  I made the drive in 7hrs and 30mins thats including the 2 stop for gas.  Like the previous day same thing happened.  The customs guy was so rad a fella motorcycle rider that was happy to see me.  He use to live in San Fran working at the docks and was happy to speak English and tell me all about his country.  Yet the immigration guy once again was the fuck head.  After about 1hr I was finally told I can not enter the country again cause of having a usa passport.  Super bummed being the one country I was looking to visit the most and just when I thought I was in the clear and have no more issues they come about.  I leave the border get restamp into Ukraine and grab a hotel about 3hrs away for the night.  Once I get into the hotel I plan the the next month out from here.
Day 53 – I decided I would go back to Slovakia since I just drove right through at the beginning of this trip.  I found this lake that looked good for camping.  After about 3hrs I get to the Slovakia border and same problem arises.  They tell me I can not
enter Slovakia with a usa passport.  I explain to the guy I been here for 2 months I was just in Slovakia they can see my stamp for when I entered Hungary.  He then tells me to try Hungary or Poland then.  I go back to Ukraine get stamped in and they explain to me Slovakia is crazy just drive 30 mins south to the Hungary border and enter that way.  So that's what I did.  Now this border crossing was insane it literally was lined up with hundreds of cars it was similar to the border crossings in Central America.  Thankfully I am a motorcycle so I drive around all the fuckers and go right to the front.  Get stamped out of Ukraine yet again and carry on across the bridge to Hungary.  There is a fella motorcycle rider in front of me on a
scooter from Austria.  We start talking I explain the situation of not knowing if I am going to be able to get into Hungary or not.  We pass customs and while customs was looking at our bikes the immigration lady took both of our passports at the same time.  After a few minutes we are both stamped into Hungary and off we go.  First my new friend Irwin says well your back in Europe would you like to grab a beer to celebrate.  I of course couldn't say no that sounds like a great idea.  We stop at the first gas station he buys me my beer and we enjoy the fresh cold beer in this hot sun.  He mentioned about crossing back into Slovakia and getting a hotel in the city of kolsice.  So we rode some really nice back roads grabbed some fuel and had yet another beer this time on me.  After about another hour of riding were in Slovakia no borders no immigration no customs just crossed that imaginary line and boom we are in.  We end up splitting the hotel in the city of kolsice and after dinner and two more beers we crash out.
Day 54 – Wake up in the morning to Irwin telling me this morning he went down to have a smoke and realized my rear tire was
flat.   I am thinking great def not what I want to do first thing in the morning change a tire.  I said I will worry about it later so we grab the free breakfast downstairs.  During this time Irwin suggest that he has motorcycle insurance where they will come and repair or tow the bike anywhere in the world.  He is going to call them and make them fix the tire.  Perfect I thought the guy shows up about a hour later and we notice there was not a hole in the tire the tube was leaking at the valve.  We adjust the nut on the valve a bit and not sure what the hell that was all about but its fixed.  We grab some air Irwin makes his drive back to Austria and I continue north into the lower tatra mountains near the polish border.  Now its Sunday so I was thinking
it wouldn't be crazy busy but this place is a damn zoo completely packed.  I somehow get a spot by one of the few trees and before I even get my tent up some van pulls up literally 5ft away from me.  I mean I know this place is busy but god damn dude can you back off a bit.  I get camp set up and head down to the water to take a dip and cool off.  The water was perfect temperature.  I head back to my bike and head into town to grab dinner.  When I got back the group of people in front of me were already partying and they came up to me and invited me over to have some drinks with them since they realized I was alone.  They had a little keg so we jumped into the beer and did some shots while shooting the shit till about 2am.
Day 55 – Since I got under a tree a bit I slept good and did not even wake up till ten. After crawling out of the tent say hi to my
friends across the way that I drank with.  During the night last night a vw bus from Germany pulled up nearby as well.  Older gentlemen heard me talking English with my friends from last night and then did the normal where you from and about my trip.  In the mix of this I mentioned I came here cause want to rent a kayak and just cruise around the lake.  He then tells me he has some kayaks if I would want to use one of his.  He was with his family so he had a kayak for each person.  I took him up on the offer and after having it filled with air we carry it on down to the lake and off I go.  I cruised around the lake for about 3hrs and after seeing some dark clouds which looked like some rain so came into shore.  Now of course when i got out of the kayak my phone had to go swimming.  So i instantly turn the thing off and try to dry it off and just let it sit in the sun in my tank bag.  The clouds seemed to pass by so around 4 I took a walk to get something to eat.  While I was eating totally unexpected the rain came crashing down.  I killed time at the restaurant till the weather pass and head back to camp.  Got back to camp and laid down and updated my blog.  Around 9 I decided to cruise over the camps restaurant and grab some beers.  After 4 beers and around midnight they closed up so I headed in for the night.
Social Share