Day 17 we had to be up at 8am cause today we were going to go to the Elephant Sanctuary.  We got picked up shortly after at our hostel jumped in back of a pick up truck with 5 other people and rode a windy bumpy road 2 hrs from town.  It was a good think we didn't drink much the night before cause I don't think either of us would have made it.  We finally arrived and instantly the elephants came running the stream that separated one side from the other and came playing in the water.  We crossed a bridge and made our way up to the other side of the hill where we put on a local tribe shirt and got brief about what not to do with the elephants.  Shortly later I had my pockets full of bananas and sugar cane and making my way back down the hill to feed the little guys.  There was about 25 or so of us and we were told to yell bon bon all at once and as soon as we did 6 elephants came a running and eating everything they could out of each of our pockets. It was very interesting to see how they maneuver there trunks around to grab and get everything they possibly could.  Not very long after we were all empty
handed and we were then making our way up the hill to grab corn husk to feed them.  Came back down and toss them all into one pile where the elephants then went at it yet again.  The corn husk definitely took a lot longer for them to finish up as I would imagine so probably does not taste anywhere as good.  We then break for a lunch after lunch is when we all through on shorts made medicine balls for them that include a bunch of shit i forget but mostly based off of bananas.  We had two each and went back down hill and yet again yelled bon bon where all the elephants came charging this time they told us to make sure we put them in there mouths not them take it out of our hands and I will say damn that was weird to put your hand inside there floppy gummy mouths.  After the medicine balls were done is when shit go fun we hopped into there mud bath where they rolled around and threw mud on there shoulders to cover there body as much as they possibly could and us humans threw mud at each other as well.  Most of us were covered in mud as the elephants so we walked down to a waterfall to wash off.  It was a trip to see them play in water.  They would literally submerge there hole body under water jump on each others back and some literally would just lay with there heads under the waterfall.  It was pretty funny to see but those medicine balls i mentioned yeah there were meant to help them digest there food.  So not to much longer cannon balls were falling out of there ass and floating down stream.  It was a pretty funny scene as it changed the mood very fast.  After the waterfall bath we head back up to feed them more corn husk and after 6hrs we were packing back up and taking the ride back into the city.  Once we got back into
the city I have a friend name Danny that I was lucky enough to have met when I was in North Korea who ironically was living in Chiang Mai.  Willis and I met with him in a different part of town for food and drinks.  He took us to the restaurant that was incredible so after dinner the booze started to flow.  We went back to the rasta bar we were at last night when the dude practically committed suicide.  The germans that were there from the night before were there again and supposedly when they left the hospital this morning the dude was alive.  So i guess that was a good thing so we were there to drink anyways.  We closed the bar down which mind you is at one so we end up going to another part of town where is super dodgy looking and drank till 2ish then that shut down.  So we asked the good tuck tuck driver take us to a place that is open he took us to alley that you head very little music said go in that door which is completely dark and black we walk in and boom its after hours club we stayed there till about 430 and left mainly cause it was super tight and i can't fucking stand electronic music.  We said good bye to danny and willis and i head back to our hostel.  Day 18  Willis and I had nothing really planned for the day we were going to get willis top box fixed so after trying to figure out a place to go we were like u know what we will be in Myanmar soon we will have a guy there that is local he could help us do it then.  So I mentioned well lets just fuck off lets go go cart racing.  So we grabbed a uber and head out of the city to this go cart track.  Got there and they put put to. 
So we played a game of mini golf an raced around this drift track for 15mins.  After sweating bullets cause it was 96 out and 92% humidity we hopped back in the uber for some AC where he then mentioned there is a tiger kingdom near by would you like to go.  Willis and I said fuck it sure why not.  Now yes i have heard the same shit I am sure you all have heard that there drugged up.  I would go and say yes they got to be and I know I am not doing anything to help the situation and maybe do worst by talking about that I did it but hey its my blog so fuck you.  So we got to pet the cats the older ones definitely did not move much but the trainer said it was cause of the heat but I will say the two little cubs made those fuckers were non stop playing jumping in and out of the pool and what not.  The two tigers cage that we went into they were pretty aggressive to fighting each other literally seconds before walking in.  Needless to say i enjoyed it as I think willis did to and hey look at the statistics unfortunately lions almost need to be captive cause people are killing them and there are already a few extinct cats out there.  Once we got back to the city we hit up Danny yet again to hang out cause the following day we were leaving.  Danny had his gf flying in from singapore so he mentioned about it being a calm night cause he has not seen her in awhile that we would just go for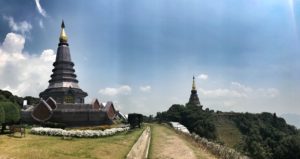 dinner.  So they met we grabbed dinner and two drinks and said our good byes.  it was truly amazing to see him again we had such a blast in north korea together and it meant the world to be able to catch him in a random ass city like chiang mai.  Day 19 we were heading south toward the border of myanmar but first I wanted to check out this temple on top of this mountain that was the highest peak in the region.  When we were at the bast of the mountain our bikes said 91 degrees we get to the top of this mountain at 2100 plus meters high so 6300 ft and the temperature   was then 64 but we were short of breath walking up and down the stairs at the temple.  Again it is the dry season so it really was nothing all that special the flowers were just starting to bloom but the grass was mixed and the sky is cloudier during the dry season.  Thankfully it was a bit blue up at that height so we took the photos and made our way back down probably within a hour.  We drove 5 hrs from the mountain to finally arrive in the city of Phitsanulok.  It was another scorcher of a day so we got in and instantly rushed to the pool to cool off.  After the pool which closed at 8 we changed and made our way out for dinner.  The hotel suggest we go to this place call District 65 where our good was amazing Willis got pulled pork curry with spaghetti noodles and shit was amazing i went with a thai beef salad.  We have stuck to the beer towers when there available so we order one and it was mind blowing on the service.  Literally not once did our beers make it below half way cause they would instantly fill our beers from the tower almost after every sip.  It was incredible we both felt bad that they were doing it but it was truly enjoyable.. We watch the band for awhile there and then made our way towards our hotel to check out another bar we saw with a band.  Went in grabbed another beer tower this time our glasses were smaller so this time i swear it seem after every sip they were filling them up.  The stage inside this bar was so legit i would compare it to a house of blues but better.  It had led boards all over the whole place which I could only imagine how money that cost.  The band we caught when we arrived was chill but the second band that went on after wards had dancers and like 8 different singers that would come out on stage and sing.  It was all in thai so we obviously had no clue what was going but it sounded great and the place was packed so to me it made sense that they were truly good.  After that checked out one last bar to play some pool and then got back to our hotel around midnight.  Day 20  We had a easy day we were just to check out the ruins of this temple which kinda resembled angkor wat.  So we left the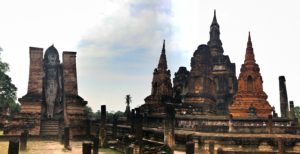 hotel at check out so noon and then moved directly west. We arrived at the world heritage site of sukhothai park.  Checked out the ruins which i think there was 13 different spots so afterwards we got back on the bikes and moved to the city of maesot its thailand border city of myanmar.  Again it was another hot one at 96 today and 93% humidity so we again went straight to the pool.  It felt like rain so we only lasted like 30 mins before we went to the bikes to grab two of the MRE to eat and grabbed some beers and just had a feast in the room while it thunder and rain like crazy outside. Day 21 we moved our way to the Myanmar
border.  We got checked out of Thailand super fast and arrived to Myanmar (my 89th country) on time to meet our guide at 830am.  In Myanmar you can not bring a person vehicle into the country without a tour guid.  So we met our 3 guides and made a dusty bumpy drive to a cave temple.  We took some photos and relaxed in some shade before continuing to our hotel for the night.  It was 101 that day and since we have no control over of the trip we didn't know what to expect for hotels but we were extremely surprise when we arrived at this beautiful hotel that had a pool.  We parked our bikes than disaster semi struck me.  Some odd reason my bike fell the opposite way of the kickstand (which is weird) and crashed into the side of the building.  We it just barely caught my side back so the bar of my box that the hinge latches down on broke away. So after some bending we got the bar bent back into location and hopefully that will hold me over till I am able to get a rivet gun to throw a rivet back in there.  Anyways we hit up the beautiful pool for awhile ate some dinner and called it a night. Day 22 we were up at
7 am because we were heading up to the Golden Rock at 730.  We arrived to a crazy ass bus station where we were piled in like sardines and made a 30 min drive up this insanely steep windy mountain that took us up 1400m so 4200 ft.  We did some walking and arrived at this golden rock.  Now usually rock formation shit i think is the biggest waste of time after going to see the 12 apostles in austrailia but some times things can change your mind cause there is literally this giant fucking rock sitting right on the edge with nothing holding it up.  Its pretty amazing site to be honest and our guide said one time a guy slid bamboo under it to the point it meets the rock below and the rock shifted back and forth.  Not sure if that is true but its kinda mind blowing this thing is sitting there just like that.  Its a sacred buddhist site so everyone is there praying and most are buy gold flake and placing it on the rock.  The rock is completely covered in gold flake which is also kinda cool but stupid all at
the same time.  After that we took the descend back down the hill but this time we were luckily enough to sit up in the cabin of the truck so it made it much more enjoyable.  Once we got done we made it back to our hotels I unloaded my boxes and willis unloaded some of his bags into the guides van.  So with hardly any weight on the bike it felt amazing to be back on the road with a totally different feel.  We made a 7hr drive before finally arriving in the new capital city of Naypyidaw.  It was crazy when we arrived it reminded me of Chernobyl in Ukraine cause it was completely empty.  They had these amazing resort style hotels but no one i mean no one was staying at them and no one is on this 12 lane highway.  Anyways we get checked into our massive hotel relax a bit and take a walk down the street to grab food made it back and called it a night.
Social Share